The online and telephone consultations during Covid-19 that helped expand the healthcare system
Primary care centres played a vital role in avoiding the collapse of the healthcare system during the coronavirus pandemic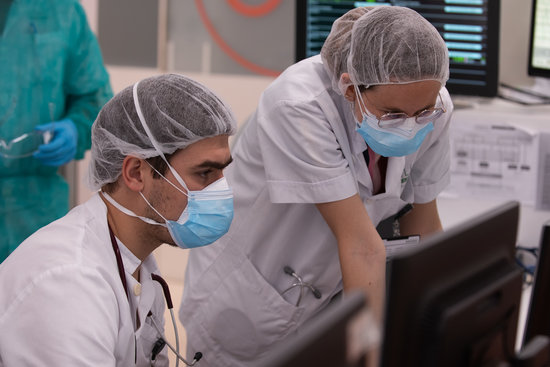 80% of Covid-19 patients in Catalonia have passed through public primary care centres, known as 'CAPs'. These facilities have cared for many people with symptoms of the virus, the most severe of whom were referred to hospitals, and most patients infected have had their symptoms tracked by telephone.
"Primary care centres have done a very important job. The hospital is limited in the number of people it can receive, and the CAPs were responsible for making that first filtering because not all patients who had Covid-19 needed to go to a hospital," says Emilio Ortega, an endocrinologist at the Hospital Clinic in Barcelona.
Thanks to the telephone services and virtual care offered by CAPs, the healthcare system in Catalonia did not collapse. As a result, CAPs have become key to controlling the virus. Javier, a patient who suffered from Covid-19, explains his experience: "The care at the CAP was excellent. I got a call from a doctor who wasn't my GP. He recommended I stop by the CAP after some routine questions and they examined me. As a result, it led me to the emergency ward."
To face up to the challenge of this health crisis, primary care centres had to reorganize themselves. Staff were divided into three different groups: "One in the front attending to respiratory patients, another in the telephone centre, and another block that worked from home because of personal situations," Zoe Herreras, a doctor in the Comte Borrell primary care centre in Barcelona, explains.
At CAPs, during the pandemic, only patients that need face-to-face care and emergencies are treated in person. All other queries are answered virtually or by telephone. All patients have an online portal in the healthcare system's website called "La meva salut" ("My health"), where they can contact the doctor through a chat function, they can view their appointments and documents, and be cared for by healthcare professionals from home.
This platform is not new, but with the pandemic, it was expanded massively, and was used by many patients. "This method has been the best solution to protect the patient and health professionals, and it greatly speeds up the work. It's a two-way communication and is very agile", Dr. Inés de Olano, a healthcare professional in Montcada i Reixac, outlines.
CAP doctors also explain that when the 061 and 112 emergency telephone numbers were inundated with calls, many people feeling symptoms called primary centres instead. "On the first day, we received almost 800 calls, and the following weeks we answered about 200 or 250 calls a day," explains Dr. Herreras.
Before Covid-19, non-face-to-face consultations did occasionally take place, but not very often. It is a system that was accelerated due to the coronavirus crisis. "Our goal under normal conditions before coronavirus was for 70% of consultations to be held virtually or by telephone and 30% in a face-to-face format," says Pere Vivó, the director of CAP in Montcada i Reixac.
The pandemic has allowed patients to know and feel comfortable in this method and "it is an opportunity to change the model," says Dr. Herreras. Isa Roca, a young woman who suffered from Covid-19 and was attended to by telephone, says, "I would call the doctor more and be told if it is necessary to go in person or not."
With this system, medical professionals decide whether or not a patient needs to attend in person. They attend to face-to-face visits only when absolutely necessary, as this can also be efficient for saving time and costs. Many healthcare professionals consider that people often come to CAPs for small doubts, which could be answered quickly through a virtual consultation.
"Online consultations are here to stay and is going to be common practice from now on," explains Dr. Ines de Olano. Healthcare professionals say that this will further enhance relationships between doctors and patients, too.
Phone or virtual visits bring many advantages for both the patient and the healthcare professional. With this method of non-face-to-face care, the patient does not have to leave work to go to the doctor, does not have to travel, they do not have to spend time in waiting rooms and they may get answers to questions immediately over the phone.
Besides, non-face-to-face visits have a lower cost to the health system. "With non-face-to-face visits, many more patients can be cared for in less time. Also, if the doctors attend from home, we do not need CAP infrastructure," says Dr. Inés de Olano.
The telephone method has greatly benefited patients during this health crisis as it has offered a lot of reassurance. "The virus has caused a lot of stress, anxiety, and insecurity in society. And, for many people, to call their doctor every day has given them peace and security," says Dr. Ines de Olano.
However, non-face-to-face care also has its drawbacks, as it can be very important to see the patient up close, as often through a screen a doctor cannot see the issue clearly. "With the telephone system, you can minimize something that cannot be seen. Depending on what happens to the patient, you have to tell him to come in person. Many times the patient needs you to listen and look at them," says an ER doctor from Vall d'Ebron Hospital.
The virtual method cannot be applied to all types of consultations because some patients will require an intervention, an examination, or a treatment. Face-to-face attention is the best option, but healthcare professionals believe that around 80% of appointments can be done virtually, especially at primary care centres, where visits are more general than in hospitals.
Due to the technological gap from social inequality, many people cannot access this kind of care. "We cannot strictly offer a service that cannot be accessed by a significant volume of the population, especially the most vulnerable," says Pere Vivó.
Healthcare also goes hand-in-hand with technological advances. "In 50 years there will be many technological changes and we will have to move forward and adapt just like any other business. Medicine is going to evolve in that sense, and there are even non-face-to-face surgeries, robotics will also allow us to move forward," says Dr. Ortega.