The 15M anti-austerity movement, ten years on
Thousands upon thousands took to the streets to call for an end to budget cuts and a fairer democracy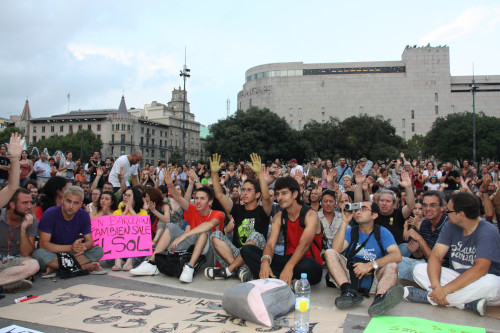 15 May, 2011: A date seared into the collective memory of all Catalans, and all Spaniards too, as thousands upon thousands of protesters took to the streets to call for an end to austerity as well as a fairer democracy, setting up camp in the country's main squares for days on end.
Three years after the 2008 financial crisis hit, protests swept the globe. Iceland had let its banks fail. Northern Africa and the Middle East found itself in the midst of the Arab Spring uprisings.
And in Spain, months before the Occupy Wall Street demonstrations began, the 'Indignados' or 'Indignats' movement took hold, earning its name from a pamphlet published by the late French diplomat and human rights defender, Stéphane Hessel, in which he called for 'outrage'.
15M brought together both members of already established movements, such as feminists groups or housing rights activists and environmentalists, and people who up until then had not been very politically active. According to Toni Rodon, a political scientist at Barcelona's Pompeu Fabra University, "disaffection" turned into "insatisfaction."
High unemployment coupled with austerity
At the time, 1 in 5 Catalans were out of work, while over 40% of young people were unemployed. When Spain made it easier for companies to fire workers, raised the retirement age to 67, and both Spanish and Catalan authorities continued to implement budget cuts to health, education, and other social services, many people decided they had had enough.
Plaça Catalunya, in the city center, was where Barcelona's 'indignats' campsite was located for weeks before being vacated by Mossos d'Esquadra police officers in scenes that were repeated elsewhere.
Protests continued long after the square was emptied, and Catalan politicians including then-president Artur Mas were even forced to use helicopters to enter parliament and avoid barricades.
According to University of Barcelona sociologist Víctor Climent, one of the reasons why these protests were so large was because of the widespread use of social media. "They were the first to take advantage of social media to mobilize people," he said.
"That allowed them to send messages quicker than ever before and they were also organized in different cells." This decentralization persists to this day amongst mutual aid and other activist groups, such as Barcelona's various neighborhood housing rights organizations.
Were the movement's goals met?
The movement's impact on Catalonia and Spain as a whole is undeniable. Anti-austerity Podemos, led by Pablo Iglesias up until very recently, was founded in the aftermath of these protests, putting an end to the People's Party and Socialists' two-party system that had defined Spanish politics for decades and going on to win a number of important municipal elections. In Catalonia, in late 2012 when center-right CiU's Artur Mas became president again, the far-left pro-independence CUP party made its debut in Parliament with 3 MPs.
And although many of the movement's demands are yet to be achieved a decade later and the far-right has begun to play a more prominent role in politics, its tactics strengthened community groups. These include the likes of the anti-eviction Plataforma d'Afectats per la Hipoteca (PAH), whose former leader, Ada Colau, eventually became the mayor of Barcelona.
Colau, for one, believes the legacy of the 15M demonstrations is still very much alive and is one of the reasons why, for example, the response to the current crisis has not been austerity—even though, she admits, "there is still a lot more that needs to be done."