Tenant awaits verdict in first trial seen as symbol of Barcelona's housing crisis
Josep Torrent has been living in Casa Orsola for over 20 years but now faces eviction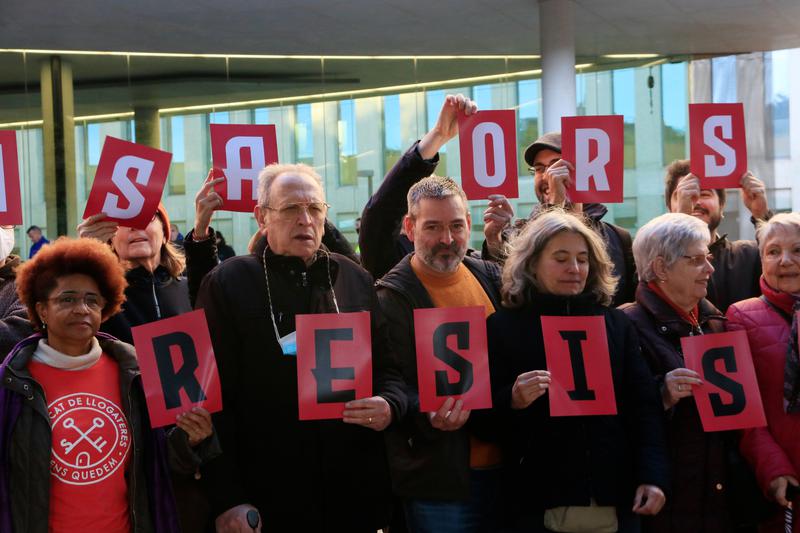 The first trial against residents of Casa Orsola has finished, and now Josep Torrent, a tenant living in the symbol of Barcelona's housing crisis, awaits the verdict. He could face eviction on February 14 after living in his home for over 20 years.
His contract ended on April 30 last year, and since then, he has continued to pay rent, as have other residents in the same situation. In October 2021, the building manager changed after Lioness Inversiones, an investment fund according to tenants and a small family-owned company, as the firm's lawyer said, bought the building.
Since then, Casa Orsola has become a symbol of the city's struggle with gentrification, as long-term renters find themselves priced out of their homes.
Now, three more tenants face the same situation and are awaiting trial.
Minutes before the trial started, residents and activists gathered outside the Barcelona court where the trial was held to offer support.
Demonstrators urged the building owner to negotiate collectively with all the tenants, something they have been asking for for some time now. The company has dismissed this proposal, as they told Catalan News in November.
In fact, "residents believed the situation was not unique, as unfortunately, it is something that happens across the city," Josep Torrent, told media outlets on Monday morning.
"Despite all the efforts made during the last year, Albert Ollé's company has avoided at all costs the possibility of negotiating a solution with the residents," a statement released by the Tenants' Union, who are assisting in the case, reads.
The owner has displayed "hostile and mobster-like behavior against the residents," the text continues.