Barcelona taxis to go on strike during ISE trade show
Cabs protest ride-hailing apps while chauffeurs demonstrate against new legislation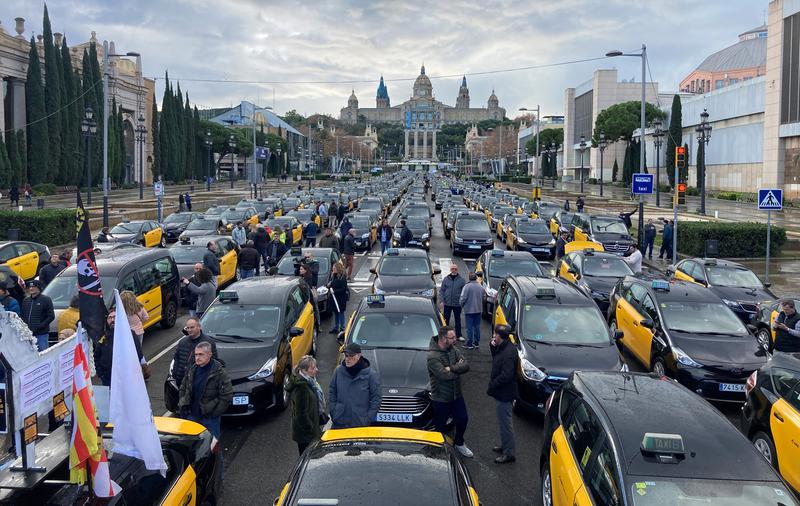 Barcelona's taxi drivers will go on strike from January 31 to February 3 coinciding with the ISE audiovisual trade show, as was announced on Tuesday following a slow-drive demonstration against ride-hailing companies.
This comes as hundreds of taxi drivers galvanized by Élite Taxi's Tito Álvarez, as well as chauffeurs, participated in two separate protests across Barcelona on Tuesday morning, with taxis departing from Plaça Espanya square to the Catalan parliament and private hire vehicle drivers leaving from the airport.
Taxi drivers had initially hoped to speak with president Pere Aragonès and territory minister Juli Fernández in parliament and called the strike after realizing this meeting would not take place. Álvarez has left the door open to continuing the stoppage during the Mobile World Congress, one of the world's largest communications industry trade shows, a month later.
Taxi drivers against ride-hailing apps
The taxi driver protest kicked off with Álvarez denouncing what he described as "attacks on public services" from ride-hailing companies such as Free Now, Uber, and Bolt and warning that continued action could be necessary to prevent them from getting a foothold in the city.
They believe these enterprises pose a risk to the current fares system, which is regulated by the Barcelona metropolitan area region (AMB). According to them, their prices have been known to vary depending on how much demand there is for a ride at a certain time or on the weather.
"The taxi permit is ours," Deep Shina, a taxi driver who hails from Punjab told Catalan News. "We pay and buy the taxi, and all applications want to do is what they say [in terms of fares] and they make a lot of commission," he said, arguing that ride-hailing companies should "follow the rules in Barcelona."
"We want the prices of the government," Happy Singh, one of Shina's colleagues, said. "We are against all applications like Uber and Free Now so that's why we're here."
Tuesday's protest comes after the Élite Taxi association gave the Catalan government ten days to come up with a proposal to limit the use of ride-hailing platforms.
VTCs against new regulation
At another point in the Catalan capital, private hire vehicle drivers (known as VTC in Catalan) that are not affiliated to any platforms also protested, going from the airport to the headquarters of the Catalan government transport directorate general.
These businesses rallied against the new VTC legislation that limits the number of private hire vehicles operating in the city, establishes a 4.9-meter minimum vehicle length, and requires them to have either ECO or 0 low emissions badges and insurance equivalent to taxis. Measures such as waiting 15 minutes for a car to arrive after hailing it on an app are also still in force.
According to the VTC association that called the demonstration, some drivers have still not been granted authorization to operate despite applying for it.
"Our work should not be regulated in accordance with dictates [that are mainly from the taxi industry.] We are not Uber, Cabify, or Bolt. We are not platforms; we are traditional private hire vehicles," Ramon Llort, from the private hire vehicle association, said.
Free rides with Bolt
Ride-hailing platform Bolt, meanwhile, has been providing free rides to "prevent residents from being the victims of these protests, which only attempt to paralyze activity in the city."
In a press release, the company also said it was displeased with the new VTC regulation and criticized AMB for not granting more VTC licenses in a move that is forcing "thousands of workers and service providers to disappear."
Picmi: public ride-hailing app
To fight against private apps, the AMB launched a public ride-hailing app for taxis in November.
Called Picmi taxi, it allows users to request a taxi and will be compulsory in the sector. Cabs will pick up clients who hail them down the street and those who do so through the app.
Until now, only private services such as Free Now were available to users, but they did not include all vehicles as 'Picmi taxi' does.