Taxi union gives government 10 days to come up with proposal limiting ride-hailing
Elite Taxi threatens strikes during elections or Mobile World Congress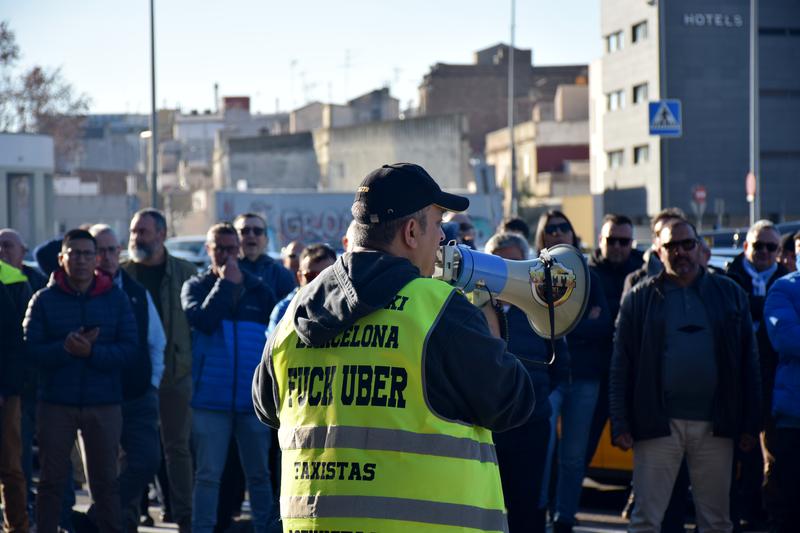 Elite Taxi, one of the most powerful taxi driver associations in Catalonia, has given the government 10 days to come up with a "serious" proposal to modify the law by which their services are regulated in a manner that limits ride-hailing platforms.
The union's members argue that companies such as Free Now are threatening to leave the current system that maintains fares stable regardless of the weather, which is why the group's well-known spokesperson Tito Álvarez issued "a warning cry" on Thursday following a gathering at Barcelona's Estació de Sants train station.
"If we don't put a stop to this and define what each thing is, the users will pay for it in the end," Álvarez said, warning of possible strikes during the Mobile World Congress professional fair, which starts on February 27 and attracts thousands of people from across the globe, as well as during the local elections in May.
"Sacred" taxi fare rate
"There are rules to the taxi industry and everyone must comply with them," Álvarez told the press. "If they want to stay, they must comply with the rules and not impose their own dictatorial rules, it's crazy."
According to Elite Taxi, Free Now plans to introduce dynamic pricing that would allow them to increase fares when it rains or whenever there is higher demand, something it says conventional taxis do not do. "The rate is sacred and cannot be inflated, it is the same for all taxis," Álvarez argued.
Elite Taxi
Barcelona's Elite Taxi is notoriously strong, having brought Uber to its knees with a European ruling stating the company was a transport service and not simply a platform and therefore subject to service provider regulations.
Taxi drivers have also been known to hold slow-drive protests through the Catalan capital in the past, generating traffic and noise.