Face masks no longer mandatory on public transport from Wednesday, February 8
Coverings still necessary in hospitals, pharmacies and care homes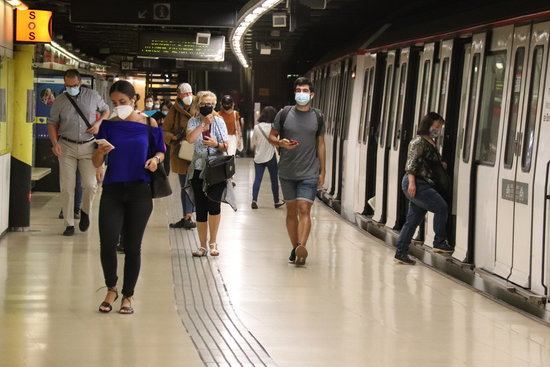 Spanish authorities have approved lifting the face mask mandate on public transport, one of the biggest pandemic measures still in place.
The removal of the measure will come into effect tomorrow, Wednesday, February 8, when it is published in Spain's official gazette, as confirmed by Spanish health minister Carolina Darias in a press conference on Tuesday afternoon.
Darias referred to the "great stability" the country is seeing regarding the pandemic picture in recent months, and praised the vaccination campaign as part of the reasoning for removing this measure, contributing to the "clear downward trend" of the health crisis.
The minister explained that around 75% of those over 80 have already been given their second booster shot.
According to the latest figures, corresponding to last Friday, there were just 50.7 positive Covid-19 cases per 100,000 population in the age bracket of over 60s in the past two weeks.
In hospitals too, Covid-19 now makes up for a small fraction of the patients who need care - just 1.6% of hospitalizations and 1.7% of intensive care units are currently in use for coronavirus treatment, according to Darias.
That being said, health authorities recommend "responsible use" of face masks if people feel Covid-19 symptoms or have respiratory issues.
Last week, Spain's health minister informed regional ministers that people will still have to wear face masks in hospitals and pharmacies, as will care home staff and visitors, but not residents.
The Catalan government has been asking for the face mask mandate to be lifted on public transport for months, and Spanish authorities first confirmed they would be removing this restriction on January 26.
As according to experts, the current epidemiological situation "is very stable."
Indeed, the Covid-19 transmission rate has been very low in the past few weeks despite the fact that winter is thought to be the top time of the year for the spread of respiratory diseases.