Spain imposes 14-day quarantine for everyone entering its borders
Compulsory confinement for travellers and restrictions in ports and airports will be in effect at least until May 24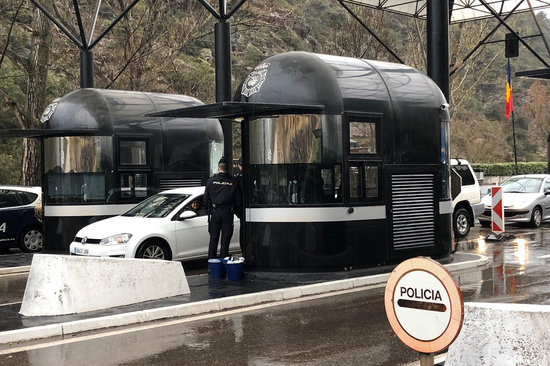 The Spanish government is imposing a 14-day quarantine for everyone entering its borders, as stated in its official gazette (BOE) on Tuesday.
The measure will come into force on May 15, and will be in effect until the state of alarm is over, that is, May 24 at 12 am if it is not extended for a fifth time.
For two weeks, travelers will have to stay at home or where they lodge, limiting their movements to basic activities, such as buying necessary products, health reasons, or force majeure.
Those crossing the border into Spain will be obliged to wear a face mask and will have to comply with hygiene and safety measures.
Cross-border workers, drivers, and crew, as well as health workers, will be excluded from this rule, as long as they have not been in contact with any coronavirus diagnosed people.
Travel agencies and transport companies will have to inform their clients of these measures before confirming the sale of tickets to Spain, and airlines will have to hand passenger location cards to their customers, which will have to be completed by travelers to Spain when they land.
Restriction in ports and airports
The BOE on Tuesday also restricts the entry to ports and airports to Spanish nationals, residents in Spain, and those who arrive for work reasons.
The measure also affects the Schengen area, so it will be communicated to all EU member states, the European Commission, the European Parliament, and the European Council.
Those excluded from the rule include cross-border workers, health workers, cargo workers, diplomats while working, elderly people, carers who travel to do their job, and those arguing force majeure.
Restricting access to these infrastructures was requested by the Catalan government in mid-March.
This measure will also come into effect on May 15 and will last until May 24, when the state of alarm ends, but it can be extended.
Tourism industry caught by surprise
As a result, the president of travel business association ACAVE, Martí Sarrate, was quick to complain: "No tourist goes to a country where they're forced to spend 14 days in quarantine, especially at a hotel or an apartment. I think it's a very strict measure."
Sarrate, who was irked that the sector was not informed directly but rather found out about the measures after they were published in the gazette, warned against expecting national tourism alone to fill the void left by international travelers. 84 million people visited Spain last year, of which 25% went to Catalonia.
The Catalan Travel Agency (ACT), however, does not seem to find that this will have a significant effect on the industry. While expressing some surprise, the ACT believes the measures will have a "limited impact" as they are tied to the duration of the state of alarm.
"It's not like we were expecting an avalanche of international tourists in the coming weeks," ACT sources added, also pointing out that many Catalans are still in health regions that are in lockdown de-escalation Phase 0, meaning they cannot travel either. Meanwhile, those in Phase 1 can only travel within their health regions.