Shops, bars, and restaurants closed in Catalonia with much reduced activity
Only establishments selling basic needs - food, healthcare, hygiene products - are permitted to open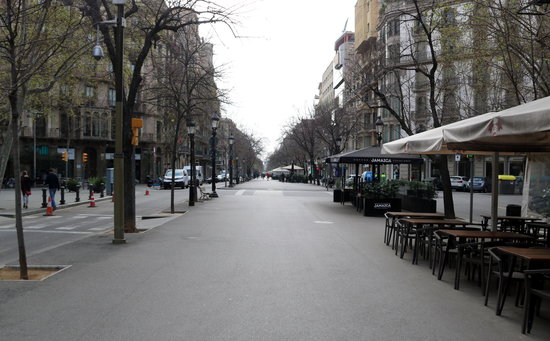 Catalan government Q&A for citizens to help stop coronavirus spread
Barcelona city center resembled a slower-paced Sunday or even a public holiday, as opposed to a busy Saturday, as the measures to tackle the spread of the covid-19 coronavirus were seen and felt in areas that are normally the busiest urban hubs of activity.
After the government's call to close bars, restaurants, and shopping centers in attempts to contain the virus, most establishments have not opened their doors.
Traffic in the city of Barcelona was almost halved, compared to data from a Saturday in February. According to data from the Barcelona city council, traffic inside the city was reduced by 47.1%.
Circulation in accesses to the Catalan capital decreased by 44.3%. Meanwhile, traffic on Ronda de Dalt and Ronda Litoral fell by 45.7%.
On Rambla de Catalunya, for example, one of the busiest streets in the center of the city, virtually all shops were closed, and only a perfume shop and clothing store remained open around noon.
With the population urged to stay at home too, traffic has been significantly reduced, as well as the number of pedestrians walking on the streets. As for shopping centers, only supermarkets inside them have opened, as food is a basic need for citizens.
The few shops that opened in central Barcelona this Saturday were mainly bakeries, supermarkets, and small grocery stores. By noon, the flow of buyers has been constant, but there has been no significant crowding beyond some queues to buy the bread.
In supermarkets, in general, the influx of buyers was similar to that of a regular Saturday, and most goods were available in decent supply.
At pharmacies, which can open as normal, most clients are being served through a small guard window to avoid crowds of customers and minimize contact, some queues were seen.
An unusual image this Saturday was to see the terraces of bars and restaurants dismantled throughout the Catalan capital. The few that were assembled early in the morning quickly had to close by order of the local police.
Catalan police had to close 322 nightclubs last night across all of Catalonia after the government had introduced the forced shut down.
The closures were especially concentrated in the Girona area, and in the Catalan capital and central regions there were no clubs forced shut.
Meanwhile in Lleida, the weekly Barris Nord market was still open on Saturday, but only the stalls strictly dedicated to selling food were open.
As a precautionary measure, the stalls have been spaced further apart from one another, and officers of the local police and from the market kept an eye to avoid any crowding.