Government orders closure of certain public spaces
Bars, restaurants, cafes, gaming houses, gyms, ski resorts, nightclubs, and all commercial areas that are not dedicated to selling food and healthcare supplies included in measure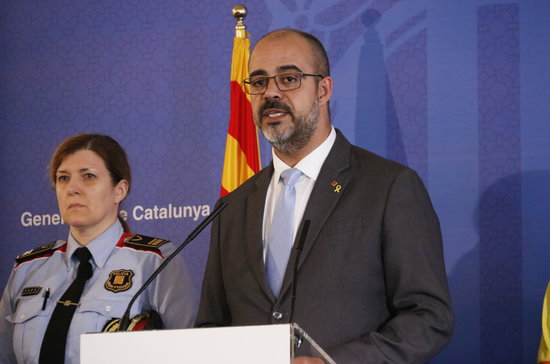 The Catalan government has ordered the closure of certain public spaces in order to avoid the spread of the coronavirus.
Interior minister Miquel Buch announced the move on Friday afternoon after a meeting with civil protection authorities.
The measure includes spaces such as gyms, nightclubs, ski resorts, and all commercial areas that are not dedicated to selling food and healthcare supplies.
On Friday late evening, the executive added that bars, restaurants, cafes, gaming establishments and wakes for people that die with coronavirus are also closed.
It was also announced that the Barcelona metro system will shut on Saturday at midnight as opposed to operating throughout the night as it normally does over the weekend.
As well as that, the Catalan capital's tram system will cease services at midnight instead of 2 am.
"Since it is now coming up to the weekend, we ask to limit any travel," Buch told reports during the press conference. "Many families go out. We ask them to limit or avoid these trips. We are working toward preventing the spread," of the covid-19 illness, the minister explained.
Buch went on to say that these measures will come into place once a decree is published later today.
All details concerning the decision will be made public by the Catalan government through a decree in the coming hours.
According to Buch, the goal is to "avoid the spread of coronavirus leading the health system coming to a standstill as much as possible."
Buch also spoke about the lockdown in Igualada and said that the Civil Protection are holding meetings with suppliers, and guarantee that basic goods are available.
Senior citizens' centers
On Saturday afternoon, the Catalan executive added another measure: all daytime senior citizens' centers will be closed from Monday and the health department will expand the home health care for those in need.
Health authorities say non-urgent visits should wait
On Friday evening, health authorities once again asked that people with non-urgent medical issues wait before seeking assistance and said that all non-urgent appointments would be rescheduled.
The Catalan health department also stated that it would be implementing other measures to lower the strain on the health system as well as to keep the elderly and those with pre-existing health conditions safe. These include, for example, making prescriptions for people with chronic illnesses last longer so that they do not need to frequently visit the doctor to renew them.