Retail and restaurant sectors denounce 'discrimination' in Covid measures
Children's toilet training potties displayed in front of government HQ denouncing handling of pandemic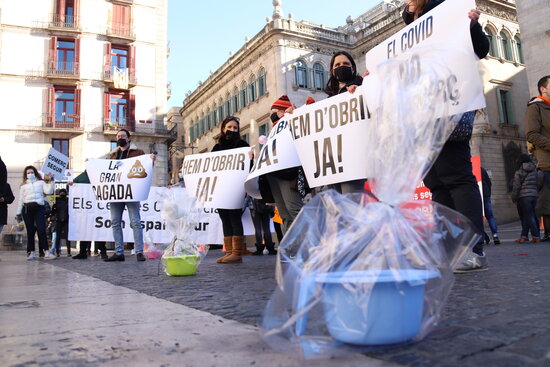 Some members of the retail sector and bars and restaurants in shopping malls gathered in front of the Catalan government headquarters building on Wednesday morning to voice their frustrations at the Covid-19 measures affecting their businesses.
Around 150 people gathered and displayed children's toilet training potties in front of the government building in name of the 'gran cagada del Govern'; a way of denouncing the measures taken as a grave error.
The protesters called for an end to the "discrimination" against stores located in malls, and the reopening of retail businesses on weekends.
They also want to see other measures limiting their business lifted, such as opening more than the currently permitted maximum of 400m2 of commercial space, and removing the limits of opening hours on bars and restaurants.
A manifesto circulated by the demonstrators also calls for consensus and collaboration with the sectors about the restrictions that affect economic activity.
Other economic demands include extending the temporary layoff scheme, direct subsidies for losses incurred during periods of closure, and tax reliefs covering the time affected by the measures.
All in all, the protesters say that up to 120,000 jobs are at risk of being lost due to the economic impact of the measures in place to curtail the spread of the coronavirus.
Current measures in place
Under the current coronavirus restrictions, shopping centres are completely closed, with exceptions for shops selling essential goods such as food and medical supplies, and businesses which have entrances accessible directly from public space and separate from the main part of the shopping centre.
These businesses can only operate in accordance with general Covid-19 restrictions, namely, they can accept only a maximum of 30% the normal occupancy, and only a maximum area of 400m2 of the store is allowed to be open at any time.
Regardless, these businesses still have to close on weekends, except for those selling essential items.