Rapper given jail sentence says 'solidarity on the streets' can lead to his freedom
Imprisonment "will give more voice to the message that Spain wants to silence" argues Pablo Hasél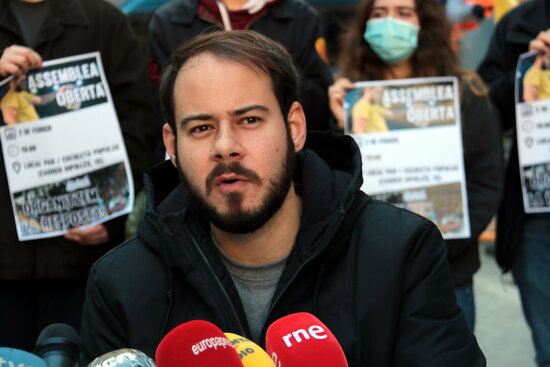 The Catalan rapper Pablo Hasél has said that it will be "solidarity on the streets" that can win him his freedom and that under no circumstances will he "do anything that looks like repent or retreat."
Spain's National Court has given him until Sunday February 7 to enter prison, something he says he will not do voluntarily, after handing down a prison sentence of nine months and one day for "glorification of terrorism" and slander against the Spanish crown and law enforcement, due to his tweets and lyrics.
His sentence will likely be extended to over two years as he has refused to pay a €20,000 fine, and, as he has a suspended sentence for lyrics calling for the return of armed groups such as ETA and Terra Lliure, Hasél could be facing more than four years behind bars in total.
Addressing the media on Monday following protests against his conviction in Barcelona and his hometown of Lleida the previous evening, the rapper criticized the Spanish government for their inaction.
He believes that his imprisonment is an attempt to "scare others so that they don't say the same things and don't mobilize, and to try to silence this message that Spain considers dangerous because of their own interests."
Commenting on the protests, Hasél, whose real name is Pau Rivadulla, said "the most important thing is to bring solidarity to the streets, as that is what can make the Spanish state and government back down," and lead to "freedom and freedom of expression for all."
Unlike fellow rapper Valtònyc, Hasél says he won't go into exile, believing that his imprisonment "will give more voice to the message that Spain wants to silence."
Hasél says that although he hasn't been informed directly, the most likely scenario is that on Sunday law enforcement will be sent to take him to prison.