Public institutions hang LGBT flags in defiance of Spanish court ban
Catalan government and Barcelona city council partake in Pride celebrations despite Supreme Court ruling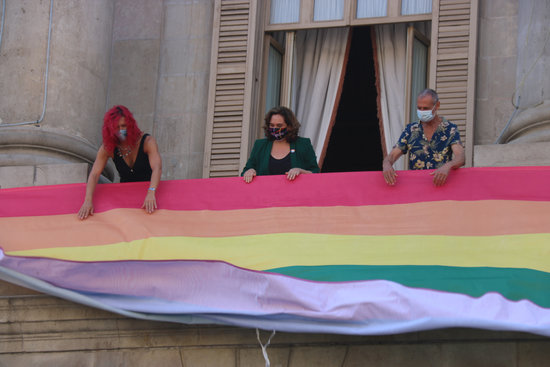 LGBT flags were hung from public institution buildings across Catalonia to mark Pride celebrations over the weekend, in defiance of the Spanish Supreme Court ruling banning non-official flags from official buildings and public spaces.
Most notably, the Catalan government and the city council of Barcelona, facing each other from opposite ends of the Sant Jaume square in the city's old quarters, went on to put rainbow flags on display on Sunday—just like they have done for a number of years.
But this time, joining Gay Pride celebrations and putting the LGTB flag on display could carry legal consequences for public officials, following a ruling by Spain's highest criminal court less than a month ago, on June 1.
The ruling established that "the use, even occasional, of unofficial flags on the outside of buildings and public spaces is not compatible with the constitutional framework and legal in force, and in particular, with the duty of objectivity and neutrality of the public administrations."
According to the Supreme Court, this "incompatibility" with the legal framework is maintained even if these "unofficial" flags do not replace, but are placed alongside, "the flag of Spain and the others legally or statutorily instituted."