Protests greet King Felipe on his return to Barcelona
Demonstration called against Spanish monarch in first trip to Catalonia since thousands protested his attendance of Mobile World Congress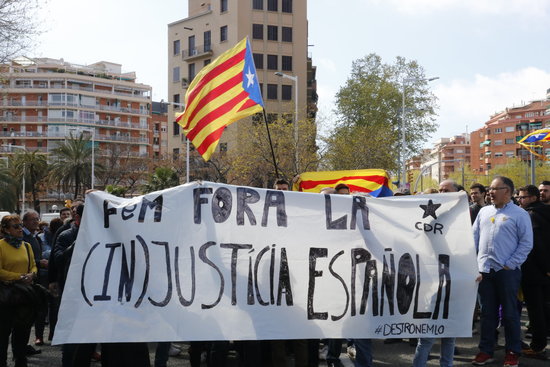 Protests were waiting for the King of Spain on his return to Barcelona on Monday morning. Felipe VI, who was in the Catalan capital to attend a ceremony appointing new judges, was met by a protest organized by the Committees for the Defense of the Republic (CDR), under the slogan "Fem fora la (in)justícia espanyola!" (Let's get rid of Spanish injustice).
Protesters chanted other rallying cries oft-heard at recent demonstrations, such as "Puigdemont, our president" and "The streets will always be ours." Strong security measures were put in place by the Catalan Mossos d'Esquadra police around the Auditori, where the king was speaking. Out of the 65 officials participating in the ceremony, some Catalan officials had not been extended an invitation - including the Parliament speaker Roger Torrent,
It is the first time Felipe has returned to Catalonia since he attended the opening of the Mobile World Congress (MWC) on February 25, when thousands of people in the city protested the Spanish monarch's presence. Monday's protest was called for 11am at Pont de la Marina, close to the Auditori de Barcelona, where the ceremony was due to take place at 12 noon.
The Catalan crisis has raised tensions with Spain's monarchy. Apart from the MWC protests, when Barcelona mayor Ada Colau boycotted an official reception for Felipe, the monarch's image was burnt during widespread protests in March in support of jailed Catalan officials. Earlier in the month, the European Court of Human Rights exonerated two Catalan men who had been condemned for publicly burning a photograph of the king's parents back in 2007.
Attitudes towards the monarchy in Catalonia took a dive in October, following the unilateral referendum on independence. On October 3, just two days after the vote that saw a heavy-handed response from Spanish police, Felipe gave a televised speech that backed the Spanish government and, above all, failed to address the violence seen two days earlier. President Carles Puigdemont expressed disappointment at the king's speech. "With this attitude you have disappointed many Catalans who held you in esteem," he said.