Prison without bail for three in anti-terrorist operation
18 were arrested on Tuesday, some of which allegedly plotted attack in Barcelona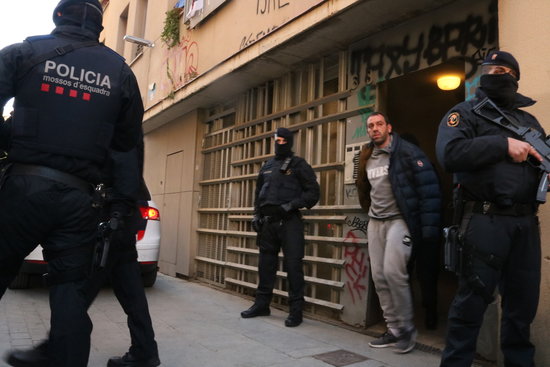 Spain's National Court ordered prison without bail for three of the 18 individuals arrested in an anti-terrorist operation launched on Tuesday by the Catalan police.
Five of them were sent to the high court, while the other 13 were released pending a summons by a court.
Out of these five, the ones "in an advanced stage of radicalization," according to the Mossos d'Esquadra police, three will face precautionary detention while the inquiry continues.
The judge accuses them of belonging to a terrorist organization, glorification, selfindoctrination, and one of them, also drug dealing and theft.
The other two individuals were released by their passports were withdrawn. They will not be able to leave the country and they will have to attend a court once a week.
100 officers involved in operation
Early on Tuesday morning, heavily-armed police officers raided six buildings in Barcelona and Igualada, in central Catalonia, following a long-term anti-jihadist operation called 'Alexandria.'
100 officers
from the Catalan police were involved in the operation, which was ordered by Spain's National Court.