Primary care doctors call strike, authorities see it as 'absolutely inopportune'
Physicians' union says health system is "collapsing" and demand 1,000 new hires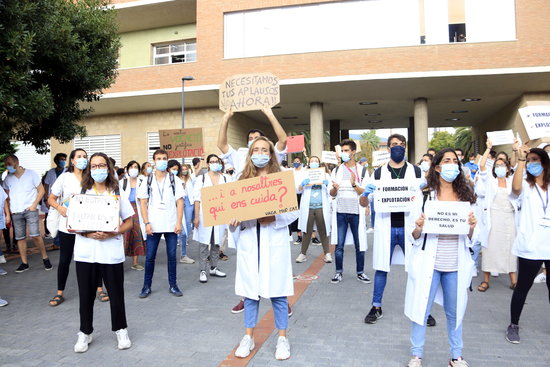 Primary care doctors in Catalonia have called a strike from Tuesday to Friday next week as a cry for help amid the "collapse" of the healthcare system, worsened by the coronavirus pandemic, and urged medical authorities to rehire 1,000 professionals that have been lost in the past ten years.
"We are calling a strike out of desperation," said Javier O'Farrill, the president of the primary healthcare sector for Metges de Catalunya (Catalonia's Doctors), the largest physicians' union. O'Farrill said they wanted to ensure the "quality" of care instead of treating patients like "cattle."
The aim of the strike, which has called upon 5,900 doctors working at community clinics, is to demand a larger workforce, decimated following years of austerity policies, as well as better wages and increasing the hours spent visiting patients.
Healthcare authorities: 'Absolutely inopportune'
Catalonia's Healthcare Institute (ICS) rejected coming to the negotiating table under the threat of a strike in the current circumstances.
Josep Maria Argimon, the Catalan government secretary for Public Health, called the prospect of industrial action "absolutely inopportune," and although he conceded that the community healthcare system is in need of a "transformation," he rejected claims that doctors were "mistreated".
The ICS even accused doctors of using the extraordinary circumstances caused by the coronavirus pandemic to advance their labor demands and said that any reforms should be discussed with unions representing other medical professionals, like nurses, or emergency workers.