Poll: 60% say their opinion of Spanish government has worsened during pandemic
Almost half of citizens surveyed say they've felt worried in the last seven days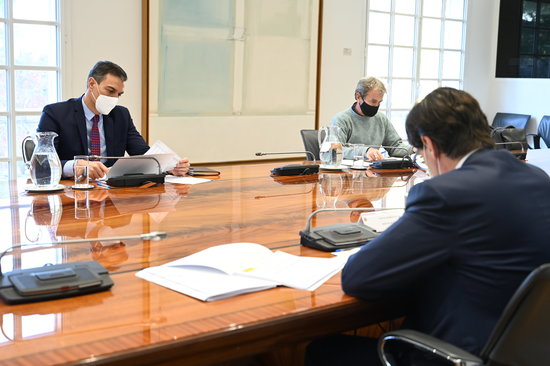 59.9% of citizens in Spain have a worse opinion of the government now than before the coronavirus crisis began. 18.2% of respondents have an improved opinion of the executive, while for 15.1% it remains the same.
That's according to CIS, Spain's public survey institute, who on Wednesday published the results of a survey called 'Effects and Consequences of Coronavirus'.
The survey also asked respondents to say whether their opinions of various institutions had improved during the pandemic.
A total of 47.1% say that their opinion towards their regional government has worsened, while 37.5% say the same about the European Union.
Some 60% say they have an improved perception of NGOs, for the army it is 52%, and for the health system it is almost 50%. For regional police the figure is 35% of respondents, for teachers it is 54.6% and for local government, some 31.2% of those surveyed have an improved opinion. Only 22.9% say they have a better opinion of the media, the lowest figure for any group or body aside from the Spanish government.
Half of respondents are worried
47.8% of those surveyed say they have felt worried at some point in the previous week, although 35.9% say they felt happy most of the time. 40.4% say they were sad at some point in the previous days while 36.1% have felt stressed.
Since the onset of the pandemic, 53.1% have sometimes felt worried, while 26% of people have felt worried most of the time. 40.7% say they are angry at times.
79.3% believe that the crisis has had effects on the emotional health of all kinds of people. 15.3% say their relationship with friends worsened during confinement, while on the other hand 22.3% say their relationship with family improved. For the vast majority, there is no change in the quality of their relationships.
More video calls and group chats
81.7% say they have had an increase in video calls with family and friends, 73.4% have exchanged more messages, photos and videos in group chats, 71.5% have seen more films and series. 76.2% have followed the news more while only 37.9% say they have rested and slept more.
When asked about their future, 27% are optimistic and 15.3% are not, with the latter figure rising to 22.1% when asked about the future of children or grandchildren.