Period of simultaneous wildfires 'over' after Baldomar blaze stabilized
Six days of flames in western Catalonia burn 2,700 hectares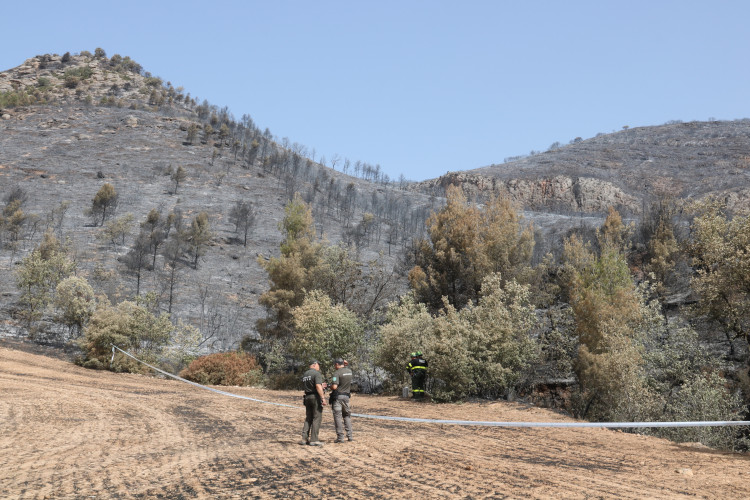 The wildfire of Baldomar, in Artesa de Segre, western Catalonia, is now stabilized after six days of activity.
The Catalan interior minister, Joan Ignasi Elena, announced it on Monday evening, adding that the period of simultaneous wildfires that began last Wednesday is "over."
The blaze in Baldomar has been the most serious of the over 300 declared in less than a week, with around 2,700 hectares burnt.
"It has been hard to counter, as those firefighters working on the scene know," said Elena from the temporary command center, set in Bellaterra, Cerdanyola del Vallès.
According to him, the weather in the coming days will be "more normal," compared to the heatwave Catalonia has gone through during the past few days, which has contributed to the exceptionally serious situation of simultaneous blazes.
Elena reminded the public that the heatwave not only brought especially high temperatures, but also dry and windy weather, and welcome the rain forecast for this week.
Also talking to the press on Monday evening, the head of operations of the Catalan firefighters, David Borrell, said that in the past couple of days his team has been tackling the fires not only in Baldomar, but also in Peramola and Oliana, and also the potential effects of lightning across the country. "Also, we aimed to avoid other major wildfires," he added.
According to him, in the whole episode, around 4,000 hectares have been burned, but the several blazes could have affected up to 100,000 hectares.
Some of the other areas affected in the past few days include Olivella (Garraf county, coast south of Barcelona), Lladurs (Solsonès county, in the central-western part of Catalonia) and Corbera d'Ebre (Terra Alta, Ebre river delta region).