Outcry and legal action over far-right campaign targeting migrant children
Investigation underway as politicians and charity groups criticize Vox election ads as racist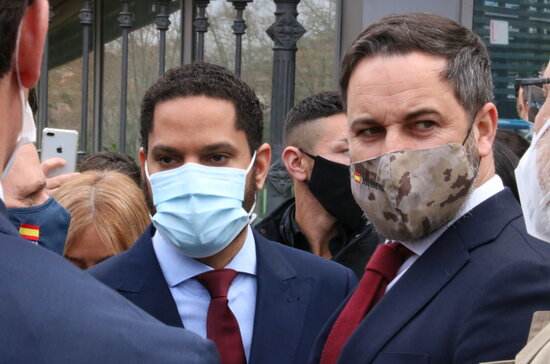 The far-right party Vox, which won its first seats in the Catalan parliament in February's election, is facing a barrage of criticism and legal action for a poster campaign that singles out unaccompanied migrant children.
The poster, published ahead of upcoming elections in Madrid, compares the amount of money the party claims is spent on unaccompanied migrant children as opposed to pensions. It reads: "A mena, €4700 a month. Your grandmother, a €426 pension/month." The poster has been criticized for picking on vulnerable youngsters, for being inaccurate, and for its use of the term mena, a Spanish and Catalan acronym that means unaccompanied foreign minor.
Gabriel Rufián, spokesperson for Esquerra Republicana (ERC) in Congress, was among those who criticized Vox's campaign. "You have to be a beast to criminalize minors in this way," he said, calling for "more solidarity," "more acceptance" and "less subsidized racists, homophobes and xenophobes."
Legal action
The Public Prosecutor's Office is already investigating whether Vox has committed a hate crime by mounting the posters.
Political groups such as the Socialists, Más Madrid and Podemos have also begun legal action against the far-right party. On Wednesday, the Socialists formally denounced Vox's campaign of "hatred and racism," arguing that the actions could constitute a hate crime as well as an electoral crime.
Victims of trafficking
The first vice-president of the Spanish government, Carmen Calvo, accused Vox of being the party "of inhumanity and hatred." Speaking on Wednesday morning in Congress she told far-right MPs they should have "no place" in politics and accused them of "singling out boys and girls who come to our country in terrible situations, having been the subject of very serious trafficking crimes."
"Evil strategy"
Anti-racism groups have also condemned the posters. CNAAE said that the "evil strategy of the far right is based on things like lying about subjects that many people do not know about," while SOS Racisme said the "constant criminalization and racism towards young migrants is real and predates the rise of Vox." They claim that the Spanish government is also guilty of racism.
Madrid election
Madrid is facing a regional snap election on May 4, which could have far reaching consequences for Spanish politics. Madrid president Isabel Díaz Ayuso of the People's Party called the election after a rupture with governing partners Ciudadanos. Pablo Iglesias resigned from his position as vice president in the Spanish government to run as the leading candidate for Unidas Podemos.