October 25 deadline set for Franco exhumation
Spanish authorities announce date for removal of late dictator's remains from Valley of the Fallen memorial site following court ruling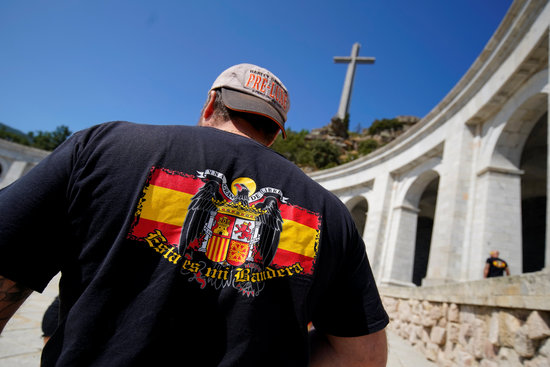 After years of delays and legal wrangles, the remains of Spain's late dictator, Francisco Franco, will finally be exhumed from his tomb in the Valley of the Fallen memorial site by October 25, the acting Spanish government announced on Friday.
The announcement followed a Supreme Court ruling this week that removed the final legal hurdle to exhuming Franco's remains from his mausoleum, and moving them to a family crypt in a small cemetery outside Madrid where his wife is buried.
Moving Franco's remains was a key election pledge of acting president, Pedro Sánchez, but the issue has been dogged by delays due to objections from Franco's family. Yet, the court ruling now opens the way for the exhumation before the November 10 general election.
"The dictator can't be in a state tomb," said acting vice president, Carmen Calvo, when announcing the deadline for the exhumation. She also said the Franco family will be notified of the time of the exhumation, which will be closed to the media, with 48 hours notice.
Some 34,000 people are buried in the Valley of the Fallen, which Franco ordered to be built to commemorate all those who died on both sides during the Spanish Civil War. Yet, as Franco is also buried there, the site is often associated with his repressive regime.
Cautious welcome from Amnesty
Amnesty International (AI) reacted to the news that a deadline has been set for the exhumation, saying that it "fulfills the recommendations" made by various experts, including the UN special rapporteur on the promotion of truth, justice and reparation.
Yet, the human rights organization also warned that the Spanish authorities still have "plenty of work to do" in updating and "contextualizing" the Valley of the Fallen memorial site in order to recover historical memory and give it an "educational" purpose.
AI said it hoped the authorities will take measures to "dignify" the cemetery and "respectfully protect" the memory of those buried there. The group also said it hoped the government would listen to the demands of people who want to recover the remains of their relatives.