New campaign urges public not to use cell phones while driving
'When you drive, park your cell phone' aims to help bring down the 24% of road accidents caused by distracted drivers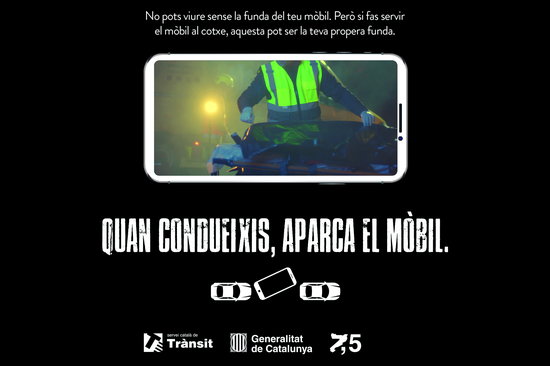 Almost a quarter of road accidents in Catalonia this year have been due to drivers being distracted, mostly by a cell phone. That's why the authorities have launched a new awareness campaign with the slogan: 'When you drive, park your cell phone'.
The Catalan road authority, the SCT, presented the campaign on Thursday, with interior minister, Miquel Buch, insisting that the campaign is not about raising funds from fines, but about avoiding road accidents.
"Today, the cell phone is essential in our lives, but it is also essential not to use it while we drive," said Buch during the presentation of the campaign, which points out that using cell phones while driving quadruples the risk of having a road accident.
Consequences of cell phone use
The campaign's publicity spot uses images to associate the main elements of cell phones, such as battery, connection or memory, with the consequences of road accidents, such as emergency services, life-support systems or memorials for victims.
The publicity spot - which will be shown for the rest of the year and particularly during the holiday periods, when the volume of traffic goes up - ends with a graphic showing a cell phone parallel parking into a space between two parked cars.
Almost 15,000 fines so far this year
While Buch played down the fines for cell phone use while driving, the presentation pointed out that they are the penalties that are mostly widely issued. Up to October 5 this year, over 14,552 fines were issued for manipulating a cell phone while behind the wheel.
SCT head, Juli Gendrau, added that there are apps to prevent cell phones from distracting drivers, and justified the campaign by saying it is important to regularly remind the public of the risks associated with driving, as with using seatbelts or not drinking alcohol.