Mass testing can cut transmission chains says health minister
Sabadell, Terrassa, Ripollet and Granollers will see widespread screening after rise in cases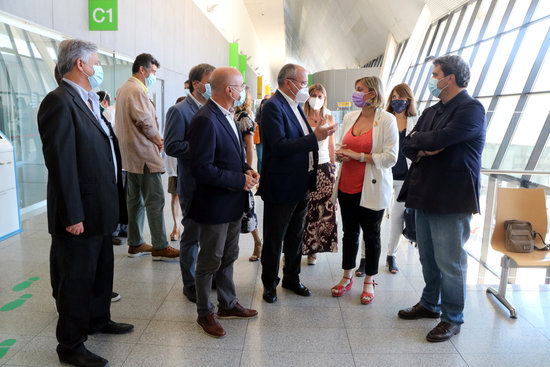 Catalan health minister Alba Vergés has defended mass testing as an effective measure to cut coronavirus chains of transmission.
Rather than see the introduction of more restrictive measures, local councils in several towns and cities in the Barcelona metropolitan area have agreed with the health department that screening sites will be set up in tents outside primary health care centers in those neighborhoods seeing an increase in cases.
Addressing journalists on Tuesday, Vergés said they hope to perform the tests in Sabadell, Terrassa, Ripollet and Granollers over the following two days, with the aim of cutting Covid-19 transmission chains, detecting asymptomatic cases, and monitoring the self-isolation of the those diagnosed and their contacts.
The health minister added that the pandemic has to be managed by responding quickly to new outbreaks, saying a good example that applying measures works is Lleida and the Segrià region, where the recent stricter lockdown has already been "relaxed."
She stressed that the aim over the coming months is that the health system should not have to stop its usual non-Covid-19 care and that "as a society we should not stop the country and all activity."
Vergés was in Reus's Sant Joan hospital in the south of Catalonia, where seven new ICU beds have been set up, in addition to the 22 that were already operational there.
Latest figures
The health department's latest coronavirus figures show that 510 new cases were confirmed, the smallest daily increase since July 21, a fortnight ago.
On the other hand, funeral homes have now registered 12,781 suspected and confirmed Covid-19 fatalities, a rise of 30 on the previous day, which is the biggest increase in a week.
Since the onset of the pandemic in Catalonia, 81,513 cases have been confirmed by PCR tests, and a total of 101,290 including all tests.