'La Manada' verdict overruled: gang receive 15-year sentence for rape
Five men who were originically charged with sexual abuse were escorted into prison on Friday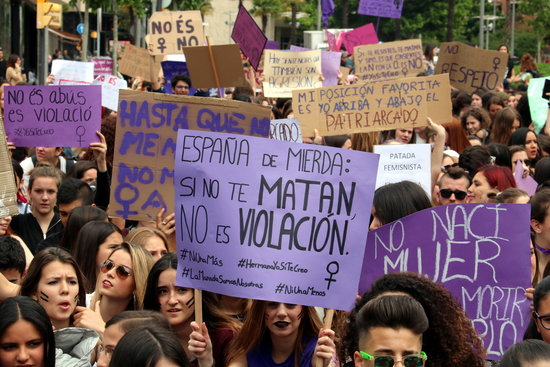 Spain's Supreme Court has overruled the 'La Manada' (wolf pack) case's controversial verdict, charging five men with rape, not sexual abuse, and increasing their prison sentences from 9 to 15 years. On Friday evening the men were escorted into a prison in Seville.
What happened in Pamplona's 2016 San Fermín
One of the highest profile sexual assault cases in recent times was back in the news on Friday as Spain's Supreme Court considered an appeal from the prosecution to overturn the verdict in the infamous case.
In April last year, a court in Pamplona, in the Navarra region, convicted a group of five men popularly-known as 'La Manada' of sexual abuse rather than rape after they sexually assaulted an 18-year-old woman during the San Fermín celebrations in 2016.
Outrage at original decision across Spain
The case led to major protests all over Spain, including Catalonia, rejecting the verdict in which the judges argued the men did not use violence during the assault, and that the woman did not fight back while the attack took place.
In the hearing preceding the ruling, the prosecutor argued that the men should be convicted of rape because they used "force and intimidation" during the attack, and that the victim, who was "paralyzed with fear," should not be expected to show "dangerously heroic attitudes."
Before the hearing took place, the men's defense lawyer said he hoped that the "media pressure" would not influence the decision of the judges and he stressed that his clients had no other option but "to trust in the judiciary."
Barcelona government and Catalan parliament
Condemnation has also come from political institutions. In April last year, Barcelona's city council rejected the controversial verdict in a statement read out by mayor Ada Colau, which said "this verdict minimizes the events," and called for a reform of the criminal code.
Later, in May, the Catalan parliament followed suit with a declaration that called the Pamplona court's ruling "disgraceful" and accused it of contributing to the problem of gender violence by making women feel "responsible for the violence they suffer."
International reactions
The shockwaves from the verdict and the protests it provoked were even felt on a European level, with the EU commissioner for Justice, Vera Jourová, saying she expected the Spanish judiciary to make a "quick and fair" decision on the prosecutor's appeal.
At the same time as 'The Wolf Pack' case received broad coverage in the international media, the protests continued, such as the one involving 3,000 people in Barcelona in November that was attended by Colau and other leading Catalan political figures.
The case is known as 'La Manada' because of the name of the WhatsApp group the men used to share the video of the attack. While the prosecutor pressed for a 22-year prison sentence, the men were finally sentenced to nine years, leading to the appeal.