Internet founding father praises Catalans as 'intrepid digital revolutionaries'
Google vice president Vinton Cerf receives Catalonia International Prize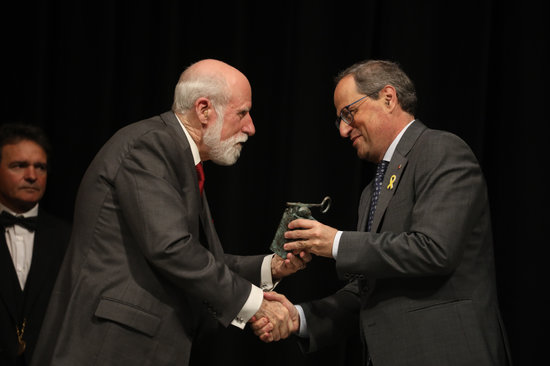 Widely recognized as one of the Internet's founding fathers, Vinton Cerf has praised the people of Catalonia as "intrepid digital revolutionaries" during his visit to Barcelona to receive the Catalonia International Prize.
"People here are very creative. I'm looking at you to use this creativity to help all of us make better use of technology in the future," said Cerf, currently the vice president of Google. "We're all going to have to learn new jobs and new skills to take advantage of that technology."
Cerf was also the chairman of the Internet Corporation for Assigned Names and Numbers (ICANN) in 2006 when it authorized the .cat domain name—one of the first ones to explicitly refer to a language, rather than a state.
Currently, there are more than 109,000 .cat domains, according to the Fundació puntCat (Catalan for 'dotCat').
In its 30 editions, never before had technology specialist won the award, which recognizes individuals who have made a "decisive contribution with their creative work to furthering cultural, scientific and human values around the world."
Out of a list of 109 candidates from 50 countries, the Catalan government awarded the American engineer for his "contributions to the development of the Internet as a basic infrastructure and a network open to the world."