Interest in shepherding continues to grow year after year
Majority of School of Shepherds students since 2008 already work in the sector as the centre looks to innovate with new Silvopasture practices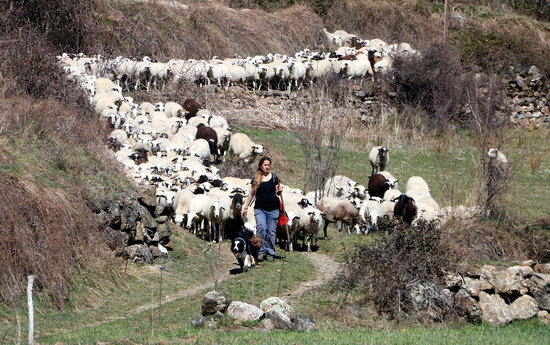 Since 2008, 202 students have been trained at the School of Shepherds of Catalonia located in the town of Enviny in the Catalan Pyrenees. Of these students, 186 - 60.4% - are currently working in the field and another 18.9% are in the process of doing so. Meanwhile, 15 more students started their classes in February.
Year on year, there is more and more interest in becoming a shepherd or farmer, but despite this growing interest in school numbers, there is a lack of generational succession on farms.
The School of Shepherds says there are people who do not come from a farming tradition who want to take up roles in this profession but who have difficulty accessing land to do so. Demand for places in the school already exceeds supply. In this edition, 50 applications were received to take up the mere 15 places on offer.
Franka Mittendorf, a student at the school, explained to the Catalan News Agency that she enrolled because she "wants to have her own herd." It was a former student of the school who encouraged her to sign up, and originally hailing from an urban area, she explained that she wants to better understand ways to work in the rural world.
Another student, Roger Vila, explained that the pandemic was the trigger for him to make this change in life direction and enrol. His family were farmers and he wanted to train in the sector.
Silvopasture and fire prevention
Laia Batalla, director of the School of Shepherds, explained that this year they have expanded the courses with a new theoretical week dedicated to Silvopasture - a farming practice of integrating managed grazing of green areas with the proper caring of livestock that produces mutually beneficial results for the land and the animals.
A new training module developed within the framework of the Erasmus + Fireshepherds project, the module will train students to also be adept at fire prevention in rural areas. For Laia Batalla, these methods can be an alternative to the difficulty of accessing land for students.
Pupils in the school do internships on livestock farms throughout Catalonia. Without these collaborating farms that host and train students, the School of Shepherds would not be possible, Batalla points out.
Growing female representation
The general profile of the 202 students who have passed through the School of Shepherds is between 26 and 30 years old. 53% have completed secondary and high school studies and 37% have a university degree. 10% have no relationship with the profession and only 16% have a family relationship with livestock, although more than half come from rural areas (56%). The majority of students live in Catalonia (92%) and 54% come from the province of Barcelona.
Year after year, the school has also seen growth in women's interest in working as shepherds. In 12 years, 62 women (31%) have trained at the school compared to 140 men, with the trend moving toward more and more female representation in the field.
This year, the pandemic has also conditioned the start of the School of Shepherds course and has begun with all health measures to ensure a safe and quality course.