Indoor nightlife could reopen on Oct 15 with Covid certificates required
Barcelona mayor says 3am closing time for outdoor spaces will lead to mass on-street drinking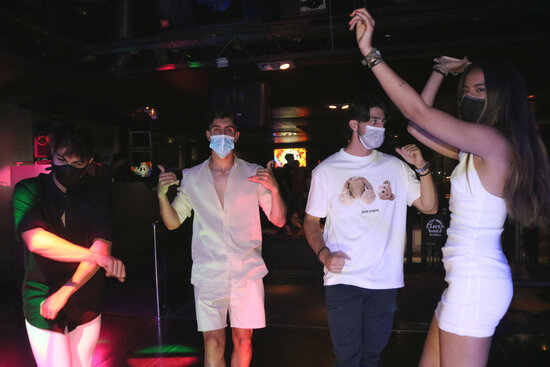 The Catalan government is planning to allow indoor spaces at clubs and other late-night venues to reopen from October 15, with patrons required to show Covid certificates to gain entry.
That's according to Fecasarm, a group that represents various associactions from the restaurant and music sectors, who met with government figures on Monday.
New measures that allow the reopening of outdoor nightlife venues from Thursday until three in the morning and for bars and restaurants to serve customers until 1am were announced following that meeting, a decision which comes only a few days before Barcelona and Tarragona celebrate their annual celebrations, La Mercè and Santa Tecla.
October 15
Joaquim Boadas, Fecasarm general secretary, told the Catalan News Agency (ACN) that during the meeting it was announced that on October 15 there will be a complete reopening of nightlife, including indoor clubs, with pre-pandemic opening hours permitted.
He also that the government could "possibly" make an announcement before that date, and that he was sure that Covid certificates would be required upon entry.
Covid certificates
Covid certificates will also be required, when it is allowed, for late-night entry to outdoor spaces, according to Meritxell Masó, general secretary of the Catalan health department.
The certificates will have to show that at least one of three scenarios applies to the bearer: that they have recovered from coronavirus, that they have tested negative for Covid using an antigen test, or that they have been fully vaccinated.
Barcelona mayor
The mayor of Barcelona, Ada Colau, has welcomed the decision from the Catalan government to allow outdoor areas at clubs to open until 3am, but has warned that "it will not be enough" to stop mass gatherings of revelers drinking on the streets of the Catalan capital.
Speaking to Catalunya Ràdio on Tuesday, Colau said she was "somewhat afraid" of what might happen during the city's La Mercè festivities.
She explained that music events at night during the festival would be open to ticket holders only, with Barcelona and Catalan police helping to enforce the measure.
"I want it to be clear to people that you can't follow the concert from the outside," she said.
Colau said that this year "there won't be street parties" and urged people to enjoy the many daytime activities on offer as well.