Homeless population get Covid vaccines in Barcelona
Arrels Foundation administered Janssen jabs to 80 people on Thursday morning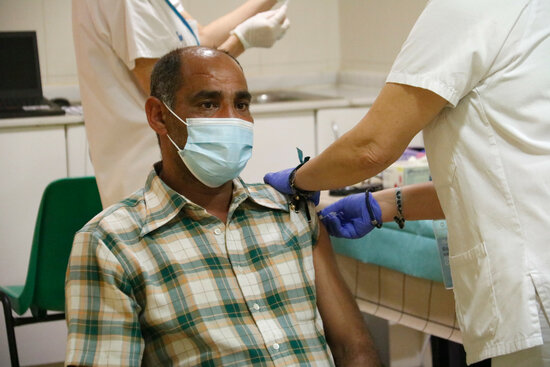 The Arrels Foundation in Barcelona started vaccinating the city's homeless community on Thursday morning, administering 80 doses of the Janssen vaccine.
Vaccines were administered regardless of people's age or residency status, with health professionals offering the jabs from 9 am to 12 pm. Considering that the Johnson & Johnson vaccine works with only one dose, 80 people left the center fully immunised against Covid-19.
The Arrels Foundation, located in Barcelona's central El Raval neighbourhood, has been working with homeless people since 1987, having assisted 1,321 people over the years.
They cover basic needs, offer rooms and provide social and medical attention in an effort to lead people towards a more independent life. They also work hand-in-hand with public administrations to improve the lives of homeless people and provide them with a more permanent place to live.
There are 4,700 homeless people in Barcelona, with around 1,200 of them sleeping on the street, according to the latest Arrels census. They highlight the fact that many of them have more vulnerable health as well as less access to relevant services.
For instance, the Arrels Foundation website states that just 52% of homeless people have a health card, while 28% say they have chronic illnesses and 39% have gone to the emergency room at least once in the last six months.
The average age of death for this group is 56 years old, which the foundation's director, Ferran Busquets, highlighted is "20 years below average" (according to the latest data by the IDESCAT statistics institute, life expectancy in Catalonia is 80.8 for men and 86.3 for women).
Camilo, a 53-year-old Argentinian man who lives and received his vaccine at Arrels, told the Catalan News Agency (ACN) that "people that live on the street are more exposed to physical or hygiene-related problems", and that, therefore, it's "important" that people are able to come to the open center and be vaccinated.
Other organizations in the city will also collaborate in the rollout, such as the Santa Anna parish Campaign Hospital and the Charity Missionaries social dining hall, who will also offer vaccinations from this week.
Busquets commented that to continue the immunization process, what matters is that there are "many spaces and many options", so that people are encouraged to go and get vaccinated.
In any case, Busquets described the vaccination of Barcelona's homeless as "a success." "We are very happy because those who are homeless will be vaccinated like most other people and because they are receiving the one-dose Janssen vaccine."