Hearings of protesters who blocked main highway towards France begin
Over 200 individuals investigated for Tsunami Democràtic protests in November 2019, after the Catalan trial verdict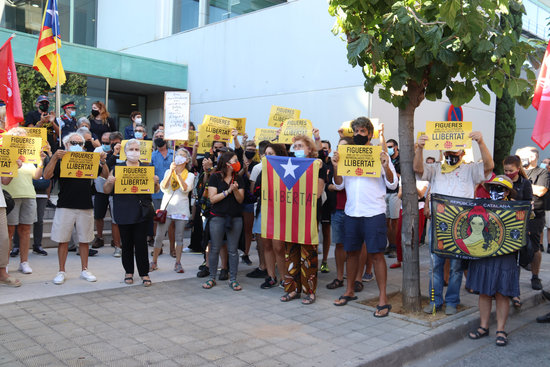 The hearings of 196 protesters investigated for the November 2019 AP-7 highway blocks by the border began this week.
On Friday morning, 10 people faced a local court in Figueres for their role in the overnight occupation of the AP-7 on November 11 and 12 last year in La Jonquera, by the administrative border with France, which included tents, a stage, and toilet cabins.
Some 200 people gathered outside the court in the northern city to support them, chanting "you are not alone."
A spokesperson for the anti-repressive organization Alerta Solidària, Martí Majoral, said that the identification of those investigated has been carried out with pictures in social media, "with really poor veracity."
He also said that the inquiry will last over a year taking into account the number of individuals involved.
Separate case for second part of same protest
In a separate case, 24 more people appeared in a local Girona court on Wednesday and Thursday as investigated for the AP-7 block in Salt, 60km south of the border, where the same action moved on November 12 and ended in the morning of November 13.
On Wednesday, some 150 people gathered outside the court also in solidarity of those investigated.
"What the state is doing is distancing from justice and emphasizing more on the will of vengeance," said Sergi Font, spokesman of 'Girona vota', taking part in the gathering.
According to the lawyer in charge of this case, Benet Salellas, some did not answer any question, others only to the defense, and others did not attend.
Some 60 people have been identified by the police for the action in Salt, to be added to the 196 investigated in Figueres.
Protest "recognized by international right"
In any case, according to him, all tactics aim to "legitimize the right to protest and the right to block roads to express outrage."
For him, such rallies are "recognized by the international right."
These actions took place to reject the October 2019 Catalan trial verdict, which saw nine pro-independence leaders be convicted to between 9 and 13 years behind bars, and were organized by the anonymous protest collective, Tsunami Democràtic.