Court summons 196 for blocking main highway near French border
Activists from Tsunami Democràtic charged with crimes of public disorder and causing damage during November protests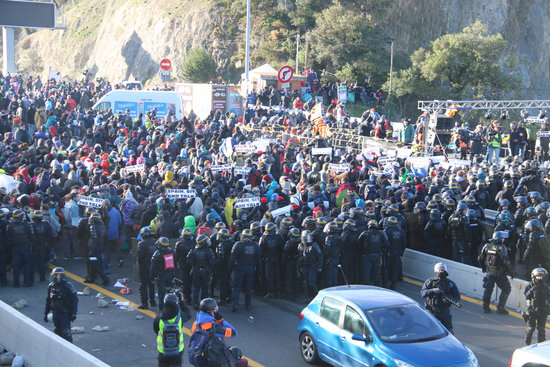 Almost 200 protesters have been called to testify in court as they are under investigation for blocking the AP-7 highway near the French border last year.
Activists from Tsunami Democràtic were behind the protests, which followed the Supreme Court handing out jail sentences to nine pro-independence leaders for their roles during the 2017 independence push.
The investigators say that on November 11 and 12 last year, the 196 protesters blocked the AP-7 highway "to disrupt the free movement of people and goods," set up "barricades" on the road, and mounted a stage on it.
The protesters are charged with crimes of public disorder and aggravated damage. No date has yet been set for the court appearances.
The court opened preliminary proceedings in December, but details have only been made public today, more than six months later.
1,200 protesters and 30 tents
The court notes that the police forces counted about 1,200 protesters and 30 tents at 6am on November 12. It also maintains that there was a "logistical organization" that provided "food and drink" and "even mobile toilets."
According to the files made public today, in order to "restore" traffic, the Catalan police (Mossos d'Esquadra) and the Spanish Civil Guard "simultaneously" with French police forces cleared the highway at around 7.30 am on 12 November. It says there were then "physical clashes" during the operation and "violent opposition to police action."
One police officer is also under investigation after accusations from a protestor that they were injured while being arrested.
Pro-independence protest group Tsunami Democràtic blocked the AP-7 highway near the French border as part of a protest with the stated aim of "calling to the international community to make Spain understand that the only way [to proceed] is to sit down and talk."