Guardia Civil police raid Catalan government's sports agency HQ
Four arrested were released with charges as part of investigation into allegations that illegal subsidies were given to organizations close to main political party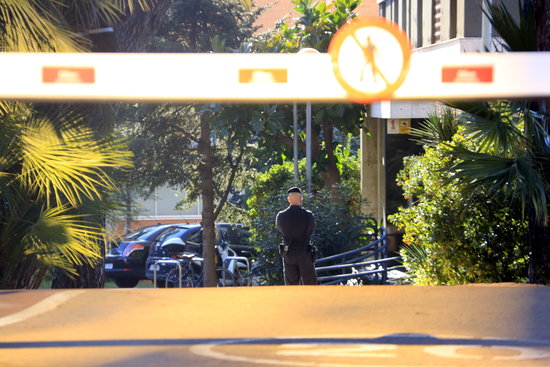 Spain's Guardia Civil police raided the headquarters of the Catalan government's sports agency on Tuesday morning, as part of an investigation into the alleged diverting of government funds to organizations close to a Catalan political party.
Officers searched the HQ of the Secretaria General de l'Esport in Esplugues de Llobregat, near Barcelona, on court orders and detained the sports agency's head, Gerard Figueras, as well as a former Barcelona councilor for the PDeCAT party, Maite Fandos, who were released on Wednesday with charges.
The party later released a statement saying "it has nothing to do with any irregular funding practices" and that "there isn't nor can there be any evidence that could implicate it either directly or indirectly" in "any irregular practices or suspicion of illegal funding."
The PDeCAT party was founded in 2016 as the successor to the now-defunct CDC party, which governed Catalonia for 23 consecutive years from 1980 to 2003 under its founder and leader, Jordi Pujol. CDC's rebranding as PDeCAT came after party officials were involved in several corruption scandals.
PDeCAT is part of the Junts per Catalunya group in the Catalan parliament, led by president Quim Torra and his predecessor Carles Puigdemont, exiled in Belgium.
Alleged illegal subsidies worth over €2m
Apart from the raid of the agency, the Guardia Civil also carried out other raids on homes, arresting Lluís Pallisera, of the Catalan Sports Council, and Àlex Gallo, a Canal Olímpic representative, on the instructions of a Barcelona judge investigating allegations that the agency diverted over two million euros in illegal subsidies. They were also released on Wednesday with charges.
Among the organizations that allegedly benefited from the illegal funds supposedly channeled through the sports agency are foundations connected to the former CDC party, such as CATmón and Igman, which were raided in a similar operation in 2018.
The raid of the sports agency HQ in Esplugues involving a dozen uniformed and plainclothes officers looking for evidence began at 8 am, people who work in the area told the Catalan News Agency. The Guardia Civil has not ruled further raids.
Party leader maintains innocence of accused
Head of PDeCAT David Bonvehí described the police operation as a "nightmare," but reaffirmed his belief in the innocence of Figueras and Fandos, describing Fandos' professional trajectory as "impeccable." Party members Mercè Homs and Francina Vila also showed up in court to show their support for the accused.