Government calls for firing of Guardia Civil chief over 'insults' to Catalan police
Minister sends letter to acting Spanish executive demanding "immediate removal" of brigadier general for address in front of Mossos d'Esquadra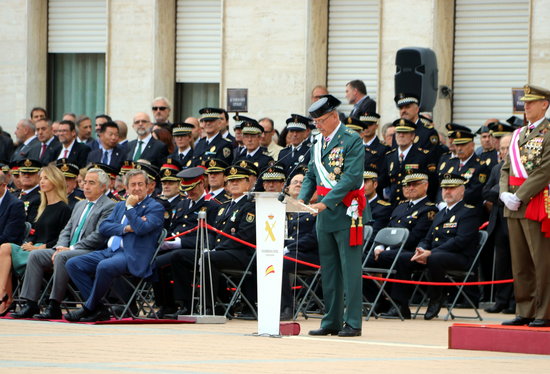 The Catalan executive has called on Spain's acting government to "immediately" fire the head of the Guardia Civil in Catalonia, after remarks he made on Wednesday at an event to honour the patron of the Spanish state police force.
A letter addressed to Spain's acting vice president, Carmen Calvo, calls for the "immediate removal" of brigadier general, Pedro Garrido, for the "offense and affront" caused by his words in reference to the Catalan police force, the Mossos d'Esquadra.
Signed by the presidency minister, Meritxell Budó, the letter says Garrido "cast doubt" on the conduct of the Mossos in front of its commanders, something the government considers "an insult" to Catalan police officers and "the entire Catalan population."
Also in the letter, Budó added that Garrido's words were "completely out of place" and predicted they will have "consequences in the long term." She also said that the speech "undermines" the "mutual confidence" and collaboration between the two police forces.
Mossos chiefs walk out of event
After Garrido's speech on Wednesday, the leadership of the Mossos walked out of the event, having taken offense at the brigadier general's words. The Spanish government delegate to Catalonia, Teresa Cunillera, later denied that she had privately apologized for the speech.
In his address, Garrido congratulated his officers for their actions during the October 1, 2017 referendum, in which over a thousand civilian voters required medical attention following heavy-handed tactics used by Guardia Civil riot police sent to stop the vote.
The chief also pledged that "we will do it again," mimicking the words of activist leader, Jordi Cuixart, who has spent two years in preventive custody over the 2017 independence bid, and is now awaiting the verdict of his trial that could see him jailed for 17 years.
Also on Thursday, the unionist People's Party candidate for the November general election, Cayetana Álvarez de Toledo, warned Mossos commanders of "consequences" if they are too lenient with the expected protests of the upcoming verdict.