French customers cross border despite PM's advice but tourism industry concerned
Nightlife businesses associations threaten government to take ban on nightclubs to courts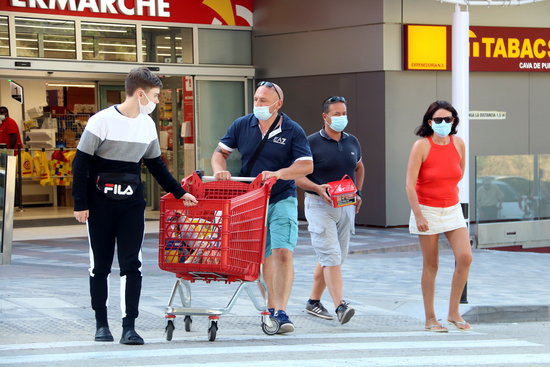 French customers are crossing the border between Spain and France states to the shops in the Alt Empordà Catalan county although Prime Minister Jean Castex advised the French public not to due to the surge in Covid-19 cases in Catalonia.
On Saturday, the highway linking both sides of the border saw constant traffic – some of the visitors went shopping in the northernmost towns of Alt Empordà, la Jonquera and El Pertús, as they usually do in order to buy food, and also tobacco and alcohol, which are cheaper than in the other side of the border.
Talking to the Catalan News Agency (ACN), some visitors said that they see "no problems" in going to the Alt Empordà, because the safety measures are "the same" than where they live.
On Friday, Castex said that French authorities are "in discussion" with their Spanish and Catalan counterparts to "make sure that the flow from Spain to France remains as limited as possible."
"Hard blow" on local tourism
Talking to the Catalan public broadcaster TV3, the Catalan business minister, Àngels Chacon, admitted that the advice will deal a "hard blow" to the local tourism industry.
She said that France tops the rankings of nationalities of foreign tourists in Catalonia, with 4 million visitors last year.
According to her, this means "2 billion euros, more than the whole internal tourism."
This sector accounts for 14% of the employment in the country – therefore Chacon urged Spain to extend the special conditions for the temporary redundancy schemes at least for the tourism firms until December. At the moment, they are due to end in September.
Meanwhile the tourism sector in Girona, an area hugely popular with French visitors, accused French authorities of running a "brutal campaign" to dissuade people from holidaying in Catalonia.
Nightlife restrictions
This comes as also on Friday, the Catalan cabinet imposed new restrictions on nightlife in an effort to avoid further spread of Covid-19 in Catalonia after the recent surge in diagnoses.
This enraged the sector, to the extent that Fecalon and GEDBP business associations threaten to take the new restrictions to nightclubs to courts.
According to them, they are the ones enforcing "more controls" to prevent the disease, and think that the decision puts in danger 35,000 businesses and 37,000 families.
Nightclubs, dance halls and events with shows will be banned in all of Catalonia, as well as musical activities with dance floors.
In addition to this, in the areas where extra measures have been put in place due to the latest outbreaks – that is, the Barcelona area, Segrià, la Noguera and the Figueres area, affecting 3 million Catalans –, a curfew for restaurants, bars, terraces, beach bars, casinos and bingos, has been set for midnight.
The measures were set to come into effect on Saturday, but they have not been published in the official gazette (DOGC).