Five injured as group in balaclavas damage pro-independence installation
Row starts with the removal of yellow crosses in favor of jailed officials and ends with five injured and around thirty identified by police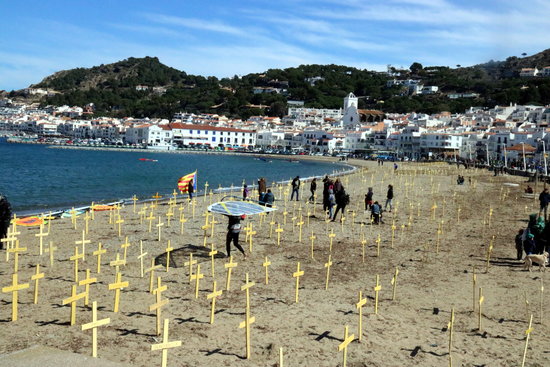 Today a Catalan beach north of Barcelona in town Canet de Mar was the location of a confrontation between pro-independence supporters and unionists, according to police, which led to five injured and around thirty individuals identified by authorities.
According to law enforcement, the incident began when some individuals, concealing their faces with balaclavas, began removing yellow crosses from the beach. The items were placed on Monday as an act of protest to demand the release of the pro-independence Catalan officials in prison and the release of those abroad by the pro-independence grassroots group CDRs.
Once some individuals started removing the crosses some of the campaigners in favor of a Catalan state protested, which led to a fight and to the local police and the Catalan law enforcement Mossos d'Esquadra being called.
Protests throughout Catalonia against Article 155
Also today, thousands of people protested in several Catalan cities against direct rule from Madrid. Specifically, pro-independence supporters took to the street to denounce what they called the "blackmail of Article 155." This is in reaction to Spain's response to the new Catalan president, Quim Torra, releasing the list of nominated ministers to include several who are either in prison or abroad. Calling it a "provocation," today the Spanish executive blocked the publication of the decree in the government gazette, thereby hindering its advancement and extending direct rule in the country.