First day without masks on public transport: 'No one wore face coverings on trains anymore'
Face mask mandate ends after three years, but some users still wear them for protection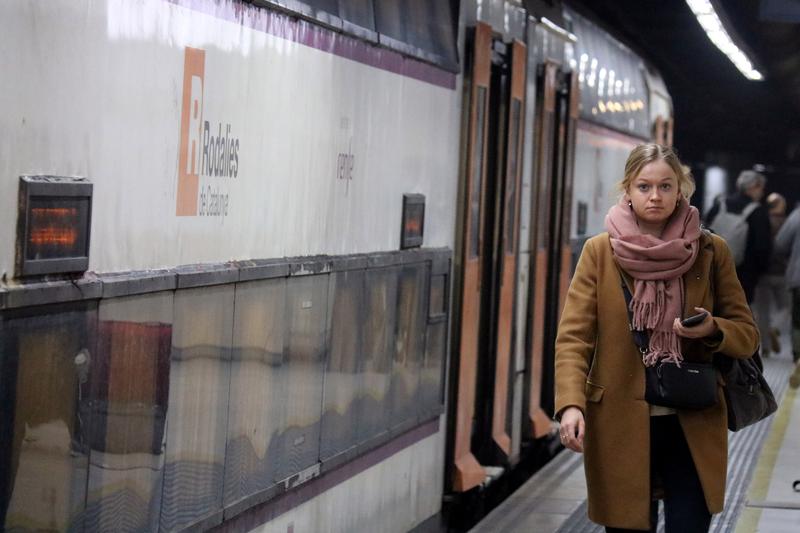 Almost three years of not seeing full faces on public transport ended on Wednesday morning. Wearing a face mask on trains, buses, metros, and planes is no longer compulsory.
The Spanish government approved on Tuesday to lift the mask mandate, removing one of the last remaining measures to contain the spread of Covid-19.
"I feel safe; no one wore face coverings on trains anymore. This is something we had to overcome; it is better to go without a face mask as it is uncomfortable, especially in winter when wearing glasses," Tamara, a Rodalies commuter train user going to work, said to the Catalan News Agency (ACN).
"Older people will still wear a face mask, and if you do not feel well, it is better to wear one," Tamara added.
But while some people have decided to get rid of face masks, other passengers wear them for "protection."
"When there is a crowd, you cannot keep your distance: For your own safety, you should wear one," Ricard Serra told ACN.
A shared sentiment with Mario, who, despite the measure being lifted for him "it does not change at all." He works with his voice and wears a mask to avoid colds, as "we need to be a little bit protected on public transport."
A face mask is no longer required on public transport, but authorities recommend "responsible use" if people feel Covid-19 symptoms or have respiratory issues.
On Tuesday afternoon, hours before Spain's official gazette published the new legislation, Spanish health minister Carolina Darias referred to the "great stability" the country is seeing regarding the pandemic picture in recent months, and praised the vaccination campaign as part of the reasoning for removing this measure, contributing to the "clear downward trend" of the health crisis.
The minister explained that around 75% of those over 80 have already been given their second booster shot.
People will still have to wear face masks in hospitals and pharmacies, as will care home staff and visitors, but not residents.