English-language website offers support for victims of homophobic attacks in Catalonia
British Consulate in Barcelona facilitates translation of help and advice from Observatory against Homophobia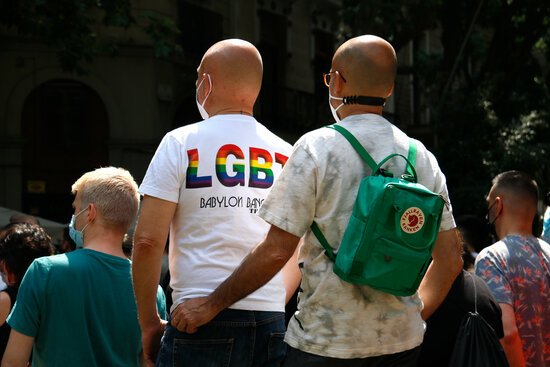 The Barcelona-based Observatory Against Homophobia (Observatori contra l'homofòbia, or OCH) has made its website available in English, offering support for victims of homophobic attacks in Catalonia.
The translation has been facilitated by the British Consulate in Barcelona, which says it has worked with the OCH to ensure information is available on their website in English, so that more English-speaking victims are able to find and access the support available.
The OCH provides legal advice and psychological support to victims of homophobia, both in person and virtually.
Homophobic attacks are rare in Catalonia, the Consulate says, but, if you a victim, it can provide you with information on how to find an English-speaking lawyer and English-speaking support organizations, both in Catalonia and in the UK.
It can also facilitate initial contact between victims, their lawyer, the police, the courts and other associations, and assist with any language barriers.
Top gay destination
Barcelona and Catalonia are popular locations for LGBT+ British tourists and residents, according to the Consulate.
The annual Circuit Festival – which markets itself as the biggest international gay festival – has over 70,000 attendees, while the coastal town of Sitges is internationally renowned as a popular LGBT+ destination and receives many British tourists each year.
Barcelona was named the best city outside the United States for the LGBT community to visit at the 2021 Gay Travel Awards, which recognized the efforts that the Catalan capital does to promote gay-friendly tourism.
Homophobic attacks
Although homophobic attacks are relatively rare in Catalonia, they do happen. In June 2021 a string of homophobic attacks led to protests in Barcelona, in which activists demanded a "paradigm shift" in the fight against hatred.
According to the Catalan Mossos d'Esquadra police, homophobic hate crimes tripled in the five years from 2014 to 2019, going from 38 to 199. The increase between 2018 and 2019 was 58% (from 75 to 199).
More info
The OCH team explain their work and the support that is available for victims of homophobia in Catalonia in this video while the British Consulate explains support available here.