Education department publishes coronavirus protocol for 2020/21 academic year
Centers will be shut if two separate cases are detected, while PCR tests will be performed on positive contacts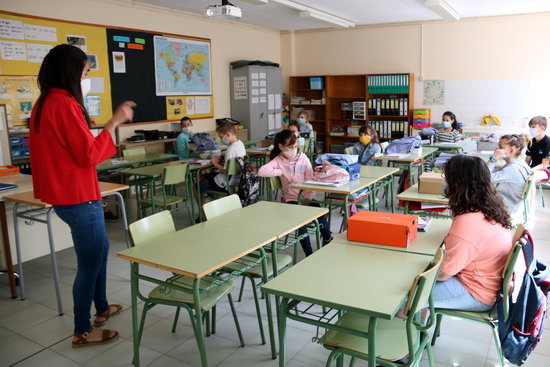 The department of education presented the protocol for coronavirus cases in schools for the 2020/21 academic year, which begins next September, on Thursday.
PCR tests will be performed on those suspected of having Covid-19, as well as their contacts if this test is positive.
The use of face masks will be obligatory except during class among the same groups.
Centers will also be shut from two separate Covid-19 cases being detected.
To apply the protocol correctly, management teams will be formed, and a primary care center (CAP) and a referral health center will be assigned to each school or institute.
In the event of a student showing symptoms of Covid-19, the center will have to isolate them in a separate and well-ventilated space and contact the family to take them to the primary health care center and a PCR test will be performed within 24 hours.
If the PCR test is positive, the student will have to isolate themselves for 14 days at home and tests will be done on the other members of their stable group. These classmates and the teacher will also have to do a 14-day quarantine, but only from the moment it is confirmed they have Covid-19.
According to the minister of education, Josep Bargalló, the protocol is largely based on the experience of this year's summer camps, in which some 250,000 children in Catalonia enjoyed time together in stable groups and there were "incidents, but few."
In addition, the Department of Education will launch a computer application called 'Traçacovid' to support educational services and families in reporting possible cases and managing them. It will be updated twice a day.
The councilor has insisted that it is necessary for everybody not to lower their guard and to take precautions also "in the teachers' room, in the meetings with management."
"It is very understandable that in these closer situations people become more relaxed, but this may open the door to more cases," he warned.
He calls for measures such as safety distances and the use of a mask by teachers outside their stable group of students and also for children and young people to carry out extracurricular activities taking these precautions.