Dozens of civil rights organizations to protest against penal code reform
Demonstration to take place on Thursday in front of Spanish government delegation in Barcelona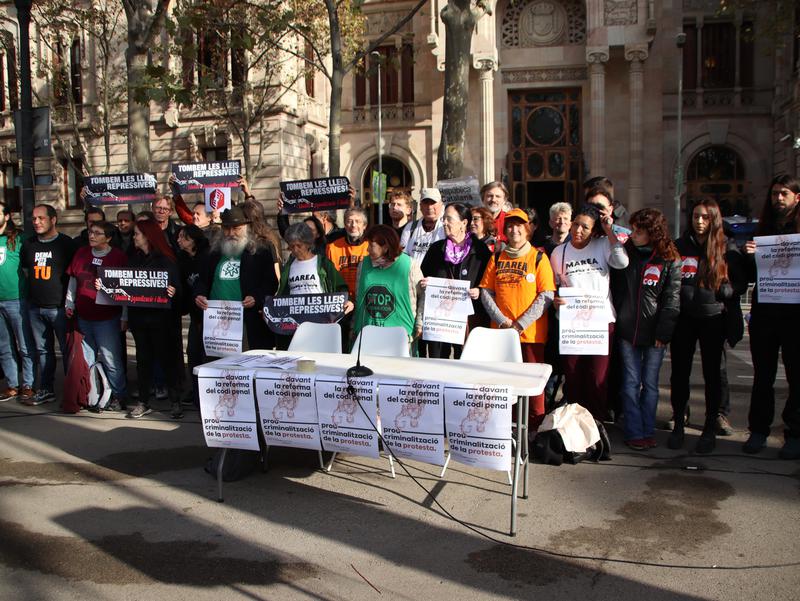 Dozens of civil rights organizations have called for a protest against the proposed reform of the Spanish penal code in front of the government delegation in Barcelona, urging authorities not to "aggravate" public disorder crimes.
These entities oppose the reform as they consider the new crime of "aggravated public disorder" will criminalize actions such as occupying the offices of any university dean, blocking a road, or even stopping an eviction.
Introducing "aggravated public disorder" into the penal code, "would imply the violation of rights and would intensify the repressive trend of the past few years [even though] we do celebrate the proposed repeal of the crime of sedition," Paula Cardona, housing rights activist, said.
Some of these 40 different organizations include human rights group Irídia; Marea Blanca, an association defending public health; the student union SEPC; anti-eviction platform PAH; and pro-independence civil group Òmnium Cultural.
The new criminal code reform was announced by Spanish PM Pedro Sánchez on November 10 and has already passed its first parliamentary process as MPs have accepted the proposal to be considered in the chamber.
Civil rights organizations will demonstrate on Thursday, December 1, at 7:30 pm in front of the Spanish government delegation in the Catalan capital.
"This demonstration will be the first one of many active mobilizations from now on if our request is not heard and the expected reform of the public disorders crime in the Spanish penal code is not withdrawn," Dídac Navarro, from environmental group Ecologistes en Acció, said during a press conference on Wednesday.
During the statements from the organizers of the demonstration, many considered this reform a way to "limit several rights," Paula Cardona, from the housing summit organization, said.
"We celebrate the proposal of erasing the crime of sedition," she explained, before adding that civil rights groups "do not want any penal code that criminalizes social actions that protect and achieve rights for everyone."
Filling the Sink podcast episode
In 2019, nine Catalan pro-independence leaders were found guilty of sedition for their roles in the independence push of 2017.
The decision to strike the crime of sedition from the penal code is set to have a huge impact on Catalan and Spanish politics.
Learn more about it on our Filling the Sink podcast episode published on November 19.