Diagnoses of common illnesses fell by up to 50% during pandemic, says study
Cases of anxiety rose by 16% at three Barcelona primary care centers analyzed by IDIBAPS researchers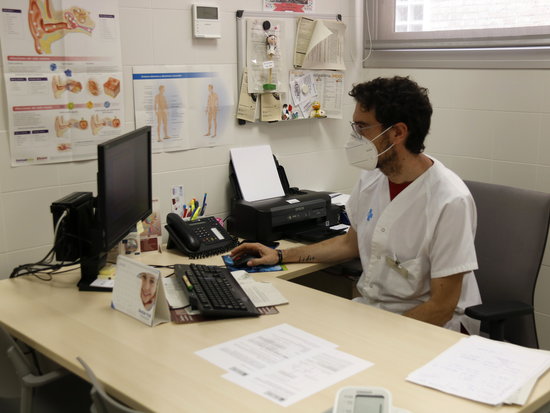 Diagnoses in primary care of some common illnesses fell by up to 50% due to the coronavirus pandemic, according to a study from the August Pi i Sunyer Biomedical Research Institute (IDIBAPS), based at Barcelona's Hospital Clínic.
The researchers looked at thirty illnesses, comparing the number of cases diagnosed during 2020 with the average for the period from 2017 to 2019, at three primary care centers in Barcelona serving a population of 85,000 people aged 16 and above.
"Drastic" reduction
The findings note a "drastic" reduction in the detection of high blood pressure, high cholesterol, diabetes, osteoporosis, and chronic obstructive pulmonary disease, while on the other hand, diagnoses of anxiety grew.
Specifically, diagnoses of chronic obstructive pulmonary disease fell by 50%, coronary heart disease by 48%, underactive thyroid by 46%, melanoma by 45%, chronic kidney disease by 43% and benign colon tumors by 42%. Diagnoses of high blood pressure and osteoporosis fell by 40% and of diabetes by 39%.
Anxiety
In contrast, diagnoses of anxiety grew by 16% and an increase in mental ill health was also observed, while there was little difference noted in the number of strokes, heart attacks and some types of cancer.
Resources
The results of the study have helped health planners to direct resources "where they are most needed at the moment", primary care, according to lead investigator, Antoni Sisó-Mirall, director of research at Barcelona Esquerra Primary Health Care Consortium (CAPSBE).
He also highlighted the extraordinary effort of primary care during the pandemic – detecting more than 80% of Covid-19 cases as well as looking after patients and monitoring contacts. This, however, led to a "shift" in the care and diagnosis of other diseases.
Sisó-Mirall hopes the report, published in the Annals of Family Medicine, will not only help to address the shortcomings of the past year, but also prove useful in tackling possible future pandemics.