Criminalizing rescue ships is 'repressing civil society,' say human rights organizations
The European Council for Refugees and EuroMed Rights warn that blocking the ships goes "against the rule of law"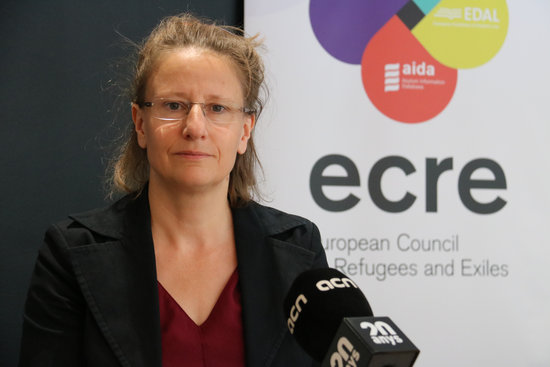 The European Council on Refugees and Exiles (ECRE) and EuroMed Rights have denounced the criminalization of rescue NGOs in the Mediterranean Sea as an attempt to "crack down on civil society" and to "prevent" them from carrying out their missions.
In statements to the Catalan News Agency (ACN), ECRE General Secretary Catherine Woollard criticized that these measures are "actions that go against the rule of law" and she demands that the European Union defend society.
For Sara Prestianni, an immigration official at EuroMed Rights in Italy, the blockade of rescue boats like Open Arms led by Italian politician Matteo Salvini aims, in essence, to prevent organizations from "witnessing" the "violations of human rights" in countries like Libya.
"NGOs view the act of returning to Libya against international law," she explains. For this reason, she predicts that the criminalization of these entities "will continue to grow."
Faced with the threat of sanctions by Italian or Spanish governments, Prestianni wants "to make the objective of ships like the Open Arms or the Sea Watch clear."
"The objective is to protect lives. They are respecting the agreements of the sea, that say that to save human lives and take them to a safe place is an obligation," she emphasizes.
Border shielding
According to data from the International Organization of Migration (IOM), between January and end of June, about 26,000 migrants arrived in Europe by sea, 35% less than during the same period last year.
Woollard criticizes that the EU's immigration policy has been based on the goal of preventing the arrival of immigrants and refugees. "The success of the strategy can not be measured by looking at the numbers of people who have been prevented from reaching safety," she reflects.
In this sense, Prestianni asks "the price" of the decrease of arrivals to European shores. "Where are these people? Stranded in transit countries, in the desert of Niger, looking for more dangerous routes, or detained in internment centers in Libya," she laments.
According to Euromeds Rights, the closure of ports in Italy and the obstacles to rescue NGOs has resulted in "an increase in the violation of human rights."
In the first six months of 2019, almost 600 people have died in the Mediterranean, and UNHCR estimates that more than 14,500 people have disappeared or have lost their lives since 2014 trying to cross the Mediterranean to reach European coasts.