Court order halts removal of Francoist monument in Tortosa
Appeal had been brought fourth by group in favor of "reinterpretation"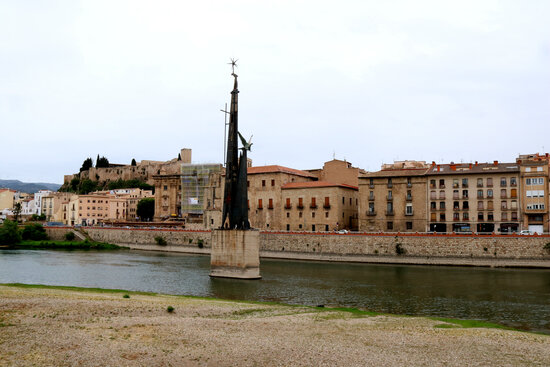 A court in Tarragona has ruled in favor of not removing a Francoist monument in Tortosa, in southern Catalonia, following an appeal brought forth by Collective for the Reinterpretation of the Monument of the Battle of Ebre (Corembe) local residents' organization.
Work to dismantle the monolith has been put on hold due to this latest legal decision, which was celebrated by Corembe. "It is a victory for common sense and for doing things the right way," said the group's spokesperson, Joan Otero.
However, even though Otero describes the ruling as "very good news," he insists on being prudent: "Resolutions can be temporary and then can head in the opposite direction; we should be cautious until it is unappealable."
Members of the Committee for the Removal of Francoist Symbols of Tortosa are disappointed by the decision: "Once again, we regret all the obstacles we have encountered; first political and now legal."
They also demand the government to "take all legal action against this measure so that the Historical Memory Act can be complied with."
On Thursday, fifty historical memory organizations gave the Minister of Justice, Lourdes Ciuró, a manifesto in favor of dismantling the monolith. The Justice Department is set to appeal the Tarragona court's decision in the High Court (TSJC) to avoid further dismantling delays.
Corembe's worries
The dismantling of the largest Francoist monument in Catalonia was set to start on July 18 and be completely removed by early August. Yet, authorities had been surveying the area since June 2 in order to begin works.
Moreover, works could possibly have started earlier than expected, as the Minister of Justice suggested a few weeks ago.
Because Corembe was concerned about the presence of construction machinery and Ciuró's words, it filed a petition for the operation to be stopped.
Authorities last year's announcement
The Catalan government announced last year on the 45th anniversary of Spanish dictator Francisco Franco's death that the monolith located in the Ebre region town of Tortosa would be taken down in 2021.
Pere Aragonès, Catalonia's president, and Ester Capella, ex Minister of Justice, stated that Francoism should not be normalized, and that taking down the monument would dignify the victims of the Battle of the Ebre.
The significance of Francoist monument
The monolith was inaugurated in 1966 by Spain's fascist dictator, Francisco Franco, to pay homage to the fallen of the Battle of the Ebre. Tens of thousands of people died in what became a major Republican defeat in the Spanish Civil War.
Because of this, many wish to take down the Franco-era monument, although others wish to "reinterpret" the structure as it is part of Tortosa's history and also because they believe "it can be associated with other concepts everyone can get behind."