Catalonia celebrates Sant Jordi - live updates
Festival of books and roses, held amid Covid safety measures, offers glimpse of pre-pandemic joy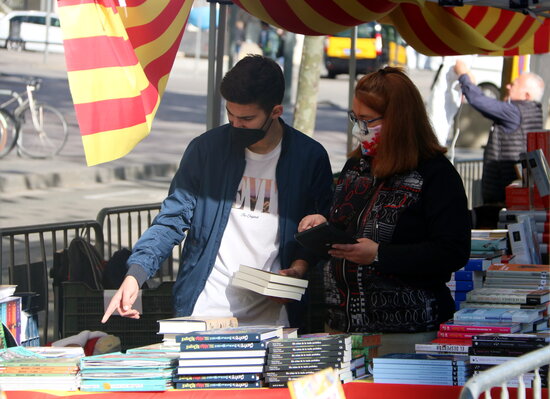 A year after the coronavirus pandemic thwarted Sant Jordi celebrations in 2020, Catalans are hoping to enjoy the latest edition of the festival of books and roses this Friday, with good weather prospects inviting people to flock the streets while complying with tight safety measures.
In Barcelona, the city council has designated eleven outdoor areas as festival hotspots, featuring 180 stands and 31 book-signing points with authors. The areas will be sealed off to control access, capacity will be limited to 30%, and will open from 9 am to 8 pm. (Here's a map to know where to enjoy Sant Jordi celebrations.)
Additionally, businesses like bookstores and florists will be allowed to set up stands on the street in front of their premises, totalling around 490 throughout the city.
Florists expect to sell between 3.5 and 4 million roses — a giant leap from 2020, but down by around 50% in comparison to a regular year, when roses dispatched nearly match the number of people living in Catalonia. Book stores expect to sell nearly one million books.
Follow the latest updates on our Twitter feed