Catalonia and Occitania back high-speed train link between Barcelona, Toulouse and Montpellier
Presidents Aragonès and Delga point to "high" demand for connection between neighboring regions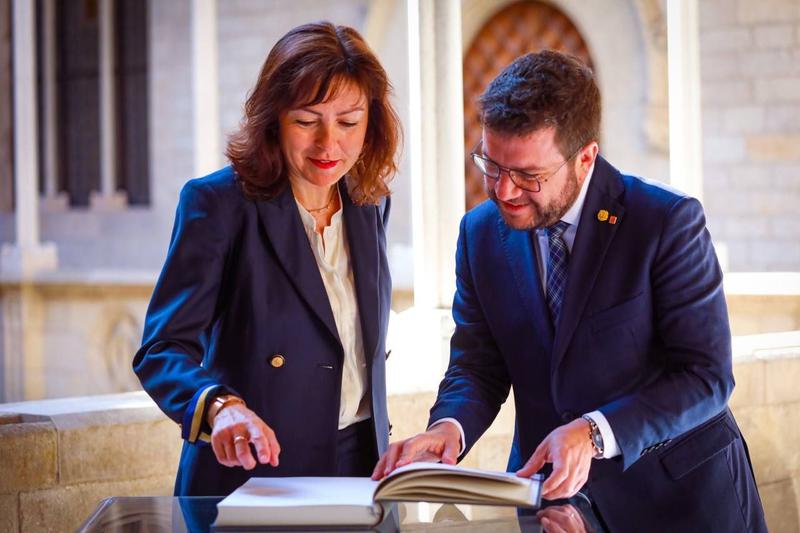 The governments of Catalonia and Occitania have backed a high-speed train connection between Barcelona, Toulouse and Montpellier.
The announcement was made at a meeting in Barcelona between Catalan president Pere Aragonès and his Occitan counterpart, Carole Delga.
A high-speed rail connection between the two neighboring regions is "essential," Aragonès said, pointing out that a study carried out by Catalan public railway company FGC showed that the routes would be economically viable due to "high" demand, demonstrated by the existing flights between Barcelona and Toulouse.
The Catalan president also announced a meeting between the Mediterranean regions in 2024.
"Railway is the future"
The project is still being drawn up, with total costs still to be quantified, but Aragonès explained that it is clear that "it is viable."
The president also raised the possibility of the EU to get involved in the financing and construction of the initiative. "Cross-border connections are being pushed by Europe and this project could be accommodated by these initiatives that are being carried out", he said.
Just 250km separate Barcelona and Toulouse as the crow flies, although the high peaks of the Pyrenees mean that the actual high-speed rail route is closer to 400km, running close to the Mediterranean.
"Railway is the future, especially for medium-distance journeys between cities," Aragònes said.
Direct trains between the cities were halted during the pandemic. Delga described the fact that there is no longer a rail connection between Barcelona and Toulouse as "a backwards step."
"It is necessary to prioritize the train or the car before the plane for journeys of this type. If there is an airline that offers the service it is because there is a demand," she said, referring to the Barcelona-Toulouse route offered by low-cost company Vueling.
Residents in Toulouse find it "inconceivable" that there is no connection between their city and Barcelona, Delga said.
Mediterranean meeting
Delga's visit to Aragonès also served to discuss the desire for Mediterranean regions in Europe to meet, and to "boost this viewpoint" at an EU level.
"Europe was born around the Mediterranean and must once again take this perspective into account," Aragonès said.