Catalan protest group to face rebellion charges, says prosecutor
Local network Committees in Defense of the Republic recently blocked highways in protest of the detention of pro-independence leaders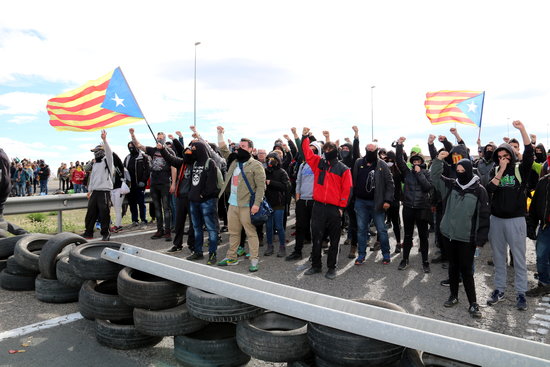 A prosecutor for the national court in Spain is looking into charging the Committees in Defense of the Republic (CDR) with criminal offenses. The CDR is a local network of pro-independence grassroots groups, responsible for blocking highways and obstructing toll booths in the past week, to protest against the detention of the deposed president Carles Puigdemont and other Catalan leaders.
In a press release on Monday, the prosecutor at Spain's national court promised to act with "severity" against the CDR and their "intolerable" actions and announced that their members could face charges of rebellion, misuse of public funds, as well as other public order crimes.
The prosecutor also pledged to bring "before justice" those behind "these acts of vandalism, which put in danger not only public peace and constitutional order, but the very essence of the democratic system." Additionally, the prosecutor claimed that the activities carried out by the CDR go beyond individual crimes, acting towards "the subversion of the constitutional order," as well as "protecting and glorifying people investigated by the law for the most serious crimes possible" in a democracy, such as "rebellion."
▶COMUNICAT◀

Davant dels intents de criminalització per part dels poders fàctics d'un estat feixista i repressor, els CDR seguim #MésViusQueMai No ens aturaran! ✊ pic.twitter.com/JNMSuoo8dC

— #MésViusQueMai (@CDRCatOficial) April 2, 2018
The CDR have dismissed all accusations of criminal offences and pledged to continue carrying out "non-violent" acts of protest. In a statement issued on Monday, the CDR accused the Spanish judiciary and press of jointly launching a campaign to legitimize the repressive measure against the group.
"We've seen how the regime's media have started to publish lies in order to attack us and criminalize us. This campaign, orchestrated in conjunction with the repressive forces of the Spanish state, aim to create a framework to legitimize their repression against us, as well as targeting us for political persecution, and justifying judicial persecution too."