Catalan police under investigation for not stopping protests
Prosecutor accuses Mossos d'Esquadra of failing to prevent demonstrators from blocking major highway and raising toll barriers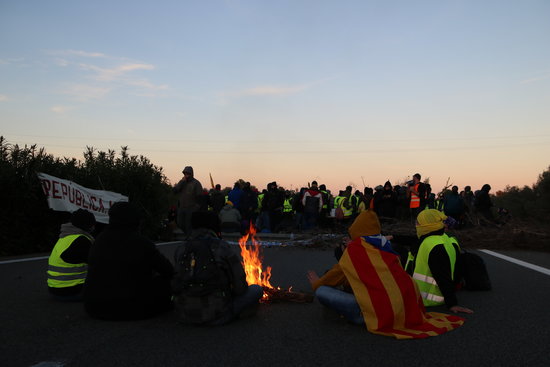 The Spanish prosecutor in Catalonia has opened an investigation into the Catalan police, the Mossos d'Esquadra, for allegedly not doing enough to stop protesters from blocking traffic and raising toll barriers on a major highway over the weekend.
The prosecutor says the Mossos did not "dissuade or use necessary and proportional force to reestablish public order" during the protests by the Committees for the Defense of the Republic (CDR) pressure group, on the AP-7 motorway on Saturday and Sunday.
The attitude of the Mossos, argues the prosecutor, infringed the rights of road users as well as the highway concession company. The chief police commissioner now has 10 days to provide a report detailing the actions of the officers deployed and those responsible.
Protesters cut the AP-7 motorway near L'Ampolla, in southern Catalonia, for some 15 hours on Saturday, and the following day they raised barriers at various tolls, including major ones at Martorell, La Roca, and Girona.
The prosecutor's report identifies the protesters as members of the CDR, and acknowledges that their actions were "to call for the establishment of a Catalan republic."
Spain warns Catalonia of police intervention
The central government warned Catalan officials that it would send Spanish police officers to Catalonia if the Mossos failed to protect public order.
While Madrid ruled out going as far as imposing direct rule in Catalonia and seizing control of the Mossos, the deployment of Spanish police officers is likely to increase tensions between both governments.