Catalan comedian summoned to court for blowing nose in Spanish flag
Dani Mateo accused of hate crime and insulting Spanish symbols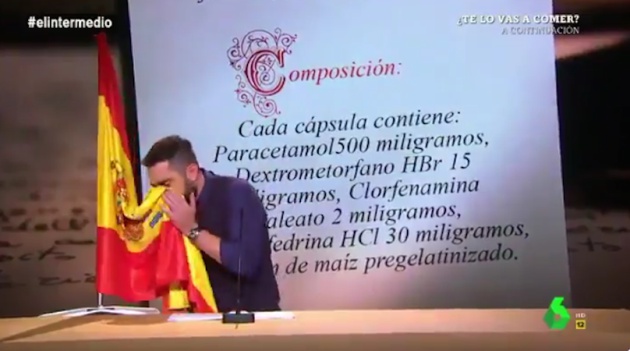 A court in Madrid is investigating the Catalan comedian Dani Mateo for a TV gag during which he blew his nose using the Spanish flag.
The entertainer appeared in court on Monday, but rejected to testify.
"This is very serious," Mateo told reporters. "As a citizen of this country, it really concerns me that we're bringing a clown to court for doing his job."
The police union Alternativa Sindical Policial pressed charges against Mateo for hate crimes and insulting Spanish symbols, accusations that then triggered the investigation.
The gag sparked harsh criticism throughout Spain and especially on social media, ultimately leading to the satirical program 'El Intermedio' apologizing and La Sexta TV channel taking the video down from its website.
"What's happening to me confirms that the gag was pointing in the right direction," Mateo said in a recent interview, in reference to the insults and threats he and his family received. "We're going to kill each other. We're putting symbols before people."
Catalan leaders support Mateo
ERC leader Oriol Junqueras and the Parliament speaker Roger Torrent took to Twitter to express their support for Mateo. "In Spain not only are ballot boxes banned, but so is humor," tweeted Junqueras, while Torrent stated that the true "insult" was not to any flag but to fundamental rights.