Catalan comedian under fire for blowing nose in Spanish flag on TV
Dani Mateo warns against "putting symbols before people" after gag sparks insults, threats and ads cancellations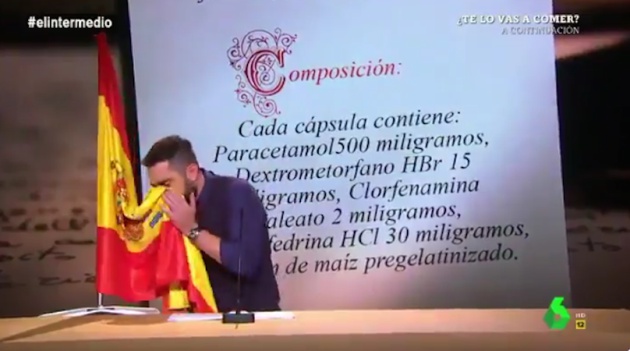 Catalan comedian Dani Mateo is under fire for a TV gag in which he blew his nose using the Spanish flag, with the entertainer denouncing insults and threats towards him and his family.
"The aim of the gag was to denounce that feelings are running high," said Mateo in an interview with the Cadena Ser radio station. "What's happening to me confirms that the gag was pointing in the right direction. We're going to kill each other. We're putting symbols before people."
The satirical program 'El Intermedio' apologized "to those who got offended" and 'La Sexta' TV channel took the video down from its website following harsh criticism in social media.
In the midst of the controversy, institutions such as the Spanish army and the Guardia Civil police came out in defense of the flag without explicitly mentioning neither Mateo or the gag.
An ophthalmology clinic canceled an advertising campaign featuring Mateo, calling for "respect to the symbols that represent" the Spanish constitution.
Mateo and 'El Intermedio' are known for an acid brand of humor often dealing with political issues, such as corruption, the independence movement, and former dictator Francisco Franco.
Several people took on Mateo via the social media and asked him whether he would blow his nose with flags standing for Catalan independence or the Spanish republic, to which he responded affirmatively.
Other comedians and personalities spoke out in support of Mateo, and anchors at Catalan public TV's 'Està Passant' even blew their noses with the Catalan flag.