Barcelona's air quality improves by 31% since 2015, 'very close' to EU limit value
European Court of Justice likely to find Barcelona guilty in sentence on pollution to be released on Thursday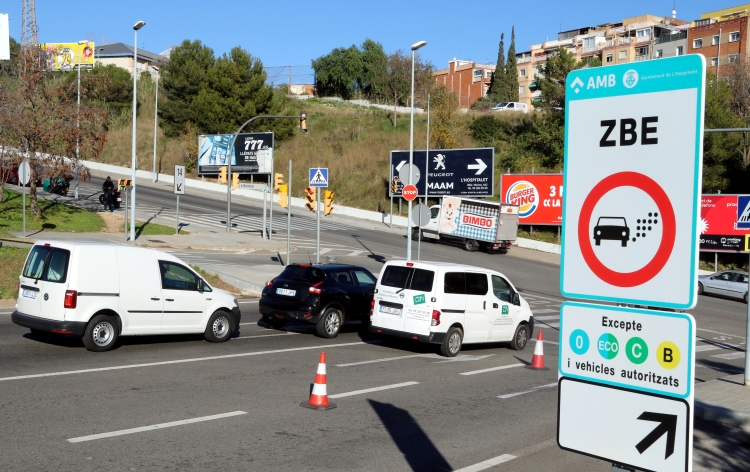 Barcelona's air quality has improved by 31% since 2015 in the places with the most road traffic.
The local council published on Tuesday figures of several air pollution stations in the city, only two days before the European Court of Justice is due to make a decision on possible breaches of EU air quality regulations in the Barcelona and Madrid metropolitan areas.
Data shows that nitrogen dioxide (NO2) levels have dropped from an average of 55 micrograms per cubic meter (µg/m3) to 38 between 2015 and 2022 in the places with the most road traffic – the figure dropped to 34 during the pandemic but has risen since then.
The levels of NO2 in areas with less traffic were 38 µg/m3 on average in 2015 and have fallen to 25 seven years later, with a low of 22 recorded during the pandemic.
The EU's annual limit value for the protection of human health is 40 µg/m3, and the Barcelona local council assumes that the city and its metropolitan area will be found guilty on Thursday despite complying with the European threshold for three years.
"There has been significant progress in the air quality, we are positive about it, because we are very close to the desired situation," said on Tuesday climate emergency councilor Eloi Badia.
The official said that the low emissions zone (ZBE), which has been in place since 2017, is one of the measures to bring pollution down – it is an area where the circulation of vehicles is restricted to protect people and the environment from pollution generated by vehicles, and covers most of the city and its neighboring towns.
"It has prompted the elimination of 600,000 journeys with the most polluting cars," said Badia, adding that the ZBE may account for half of the reduction.
Badia added that the promotion of public transport has also helped, but that the activity in the port does not have such a significant impact on the city's air quality.
For Badia, the increasing trend to work from home has also contributed to the average values lowering but this has also been somewhat neutralized by more home deliveries taking place.
After several years of warnings to Barcelona and Madrid, the European Commission took both cities to the European Court of Justice in 2019.
Magistrates will decide on the matter on Thursday – with the case dating back to 2019, when levels were still well above the threshold, the council assumes a guilty sentence will be released, but hopes that the court recognizes the efforts done recently.