Barcelona terror attacks trial: hearings end as three suspects await verdict
Public prosecutors request up to 41 years in prison for alleged members of cell that killed 16 people in 2017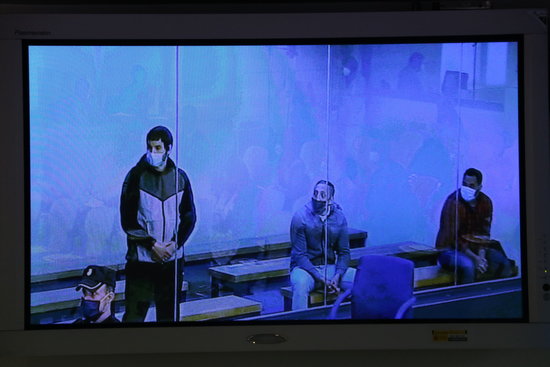 After three months of hearings at Spain's National Court, the trial for the 2017 terror attacks that killed 16 people in Barcelona and the seaside town of Cambrils has entered its last phase: awaiting a verdict for the three suspects, with sentences ranging from 8 to 41 years in prison.
The main suspect is Mohamed Houli, who survived a blast in an occupied villa in the southern Catalan town of Alcanar where the jihadist cell was secretly preparing explosive devices.
Public prosecutors have requested a 41-year prison sentence for Houli for belonging to a terrorist organization, possessing and making explosives, and conspiring to wreak havoc. Another one of the defendants, Driss Oukabir, faces a proposed 36-year prison sentence for the same crimes.
The third suspect is Said Ben Iazza, on trial for aiding the cell without being an active member, who is facing a proposed 8-year prison sentence. He admitted lending some members of the cell his ID and a car, but denied knowing that they were going to use it to buy the raw materials needed to make explosives.
During the hearings, Houly apologized for his actions and said he was "truly sorry", while Oukabir and Ben Iazza denied all accusations and said they were not aware of the cell's true intentions.
What happened to the other members?
Police investigations identified ten active members of the cell. They were all relatively young, from 17 to 28 years old, with one exception: Abdelbaki Es Satty, 41, the ringleader who recruited the other members while working as an imam in their hometown, Ripoll.
The day before the attacks on August 17, 2017, an accidental explosion blew up a house in Alcanar, a coastal town between Barcelona and Valencia, where the cell had been preparing explosives. The blast killed Es Satty and another member of the cell. The only survivor was Chemal.
The group's initial plan was bombing the likes of the Camp Nou football stadium, the Sagrada Família basilica, or even the Eiffel Tower. With the explosives gone and their leader dead, they were left without a plan. One of them rammed a rented van into one of Barcelona's most crowded spots and escaped. After a 3-day manhunt, he was gunned down. His name was Younes Abouyaaqoub.
In the early hours of August 18, when police were searching Abouwaaqoub, five fellow jihadists drove to the seaside town of Cambrils, south of Barcelona. They were killed by police officers after stabbing a woman, who later died from her injuries.