Barcelona's 'top manta' street vendors feel 'betrayed' by city council
With the new police crackdown on illegal selling, spokesman says sellers have no alternative and calls on mayor to "remember her promises"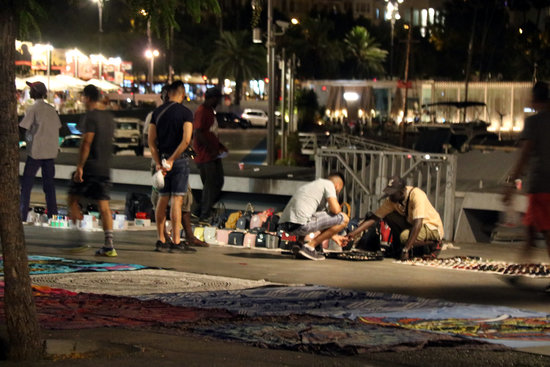 Barcelona's 'top manta' street sellers feel "betrayed" by the city council, says one of their representatives, after the local authority launched special police patrols in key areas of the city to discourage the vendors from illegally selling their wares.
Aziz Fayé, the spokesman for the Popular Union of Street Sellers, told the Catalan News Agency that before the May local election the candidates for council positions promised to do "everything possible to resolve the issue positively with social projects."
Since Monday, a hundred officers from three different police forces have patrolled areas of Barcelona where the 'top manta' sellers normally congregate as part of a "permanent" operation to "eradicate" the illegal practice.
Yet the sellers, who get their name from the Catalan word for blanket ('manta') in reference to the coverings the vendors place on the ground to display their wares that can be quickly collected when the police appear, remain defiant.
The street sellers have announced they are holding a demonstration against the "institutional racism" of the city council for Friday at 18:30.
The union calls for the protest "against the criminalization and repression" of the group, and questions the permanent police operation against them, describing it as "persecution and repression."
The protest will take place at the Canaletes fountain on La Rambla, near Plaça Catalunya.