Barcelona's superblock will have a 'more sustainable' pavement
More sustainable pavements coming to Barcelona's superblocks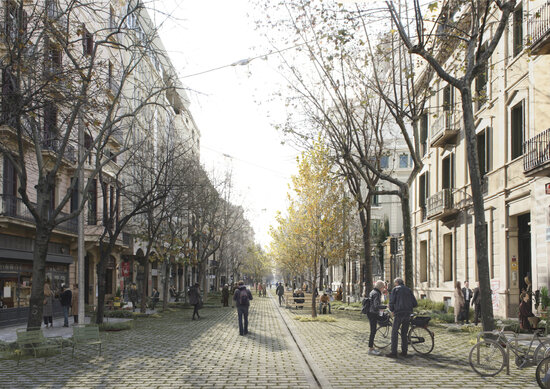 Permeable paths will allow rainwater to be reused and green space will increase tenfold
Barcelona city councillor in charge of urban planning, Janet Sanz, explained that the new design of the traditional pavements, a symbol of the city, will not be the same as before, and instead will be made more sustainable.
The city has unveiled plans for the pathways of the blocks of pedestrianized streets, known as 'superilles' in Catalan, to be "permeable" to collect rainwater and reuse 30% of it.
Sanz also explained that green spaces will increase tenfold, from covering just 1% of the road surface up to 10%.
Xavier Matilla, chief of urban projects of the Barcelona City Council, emphasised the need to incorporate recycled elements to use less cement.
Matilla clarified that the idea is "to not discuss the appearance," but instead focussed on practicality. "Innovation is in the manufacturing and functional behaviour," he concluded.
Thus, the new "21st century" streets will not have cobblestones or asphalt but will be a single platform -without the unevenness of sidewalks- with cobblestones on either side of the buildings.
The 'Superilla' programme
Barcelona's superblocks, known as 'superilla' in Catalan, aims to create open air spaces for citizens currently occupied by vehicles. The goal is to create greener and fairer public spaces to promote social relations and the local economy.
This new plan wants to put the citizens as the centre of certain areas of the city with a network of green hubs and squares.
Nowadays, the plan is already in effect in Poblenou, Horta, and Sant Antoni and will soon be coming to the Eixample district as well.