Barcelona public transport busier than usual due to all-day bus strike
Minimum services set to 40% during peak hour and 20% for the rest of the day, as protest planned to continue until end of month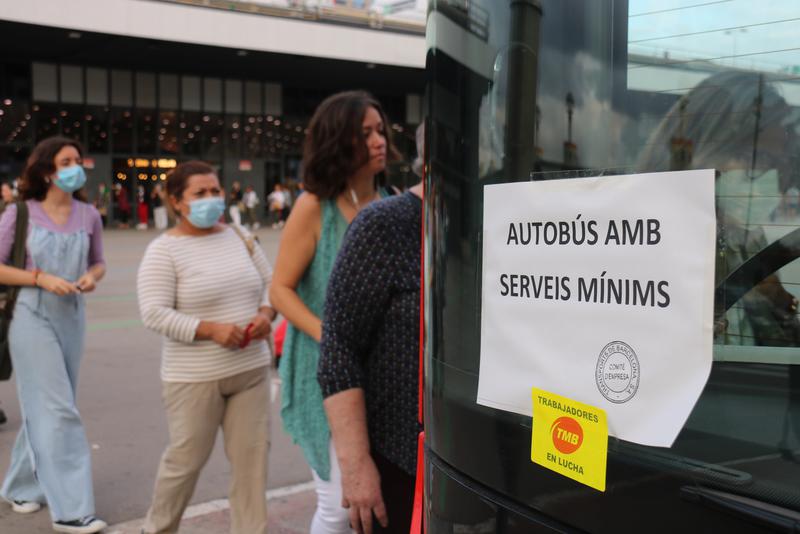 Barcelona's public transport was busier than usual during Thursday morning rush hour due to the day-long bus strike.
Both the underground and the bus networks saw some crowding as trade unions did not reach an agreement with TMB, the company in charge of the public transport service, to meet their demands regarding working conditions.
The strike is going ahead for 24 hours on Thursday, and two-hour stoppages between 2 am and 4 am, 10 am and 12 pm, and 9 pm and 11 pm on September 23 to 30 are also planned.
Minimum services have been set for Thursday at 40% between 6:30 am and 9:30 am and between 4 pm and 8 pm, and at 20% for the rest of the day.
'Bus de barri' neighborhood services will only run with one vehicle per line.
As for September 23, and 27 to 30, minimum services have been set at 20% during the strike times, while buses will run as usual for the rest of the day, according to TMB.
For the big days of Barcelona's annual celebration, La Mercè, that is, September 24 to 26, minimum service has been set at 33% during the strike times.
Frustrated commuters
People who were unaware of the bus drivers' protest on Thursday were particularly frustrated, with long lines forming at busy stops.
"There was no sign explaining there was a strike anywhere and the information provided still says buses are coming at their usual frequency," Estefania, who was waiting at a stop near the Sants train station, told the Catalan News Agency. According to her, the minimum services set by the government "are insufficient."
Estefania's complaints were echoed by other morning commuters. Laia, who had already been waiting for over 15 minutes before speaking with the Catalan News Agency, complained that the buses that did arrive "were already full before leaving," making it even harder for her to get to her destination. "The line was a kilometer long!" she complained, adding that "workers have the right to strike, but passengers have their rights too."
"I knew there was a strike, but I didn't know it was today, I thought it was tomorrow. I just saw it online, so I'll have to walk a bit," bus passenger Guifré added.
All bus drivers on strike, according to workers
Bus drivers claim that all workers who can strike - that is, those who do not have to provide minimum services - are protesting after negotiations to increase their wages in line with inflation fell through.
While TMB has accepted a 2% salary increase, unions have been pushing for one in line with the rise in the cost of living.